Shoolini University campus in Solan was abuzz with spirited activities and excitement on February 18 during Prerna Diwas, celebrated enthusiastically every year on the occasion of varsity Vice-Chancellor Prof P.K. Khoslas birthday. The day was special for everyone this year as he turned into an octogenarian.

Celebrations began with a Hawan ceremony on the campus temple as Prof Khosla thanked the Almighty for 80 joyous years of triumphs and victories. Prof Khoslas family members and Shoolini staff, present for the special prayer service, greeted the Vice-Chancellor.

This was followed by the inauguration of Bakers Hub, a bakery-cum-caf?, and a fire control room. Taking forward the universitys endeavour towards a cleaner and greener campus, Prof Khosla also planted a sapling. This was followed by a Dham, which all staff members and students enjoyed at the Milkha Singh Indoor Sports Stadium.

The competitive spirit took over at the sporting event as the Vice Chancellors XI and Registrars XI clashed on the cricket field amidst robust cheers by the audience. The VC XI team won after a tough competition that everyone enjoyed tremendously.

After day-long festivities, Shoolini students and staff gathered at the Open Air Theatre for a cultural programme, where the talented students presented scintillating dance and singing performances. This included a rap by Advik, besides a special dance-drama enacted on the life of Prof Khosla.

Certificates were also presented to students who taught underprivileged children under the Parivartan project.

Prof Khosla warmly thanked the students, faculty and staff members for their heartfelt birthday wishes and for making the special day truly memorable for him. He highlighted the various achievements and milestones accomplished by the university since its inception 10 years ago. The road had been laid, he reiterated, and the university would soon claim its place among the top universities of the world. Pro-Vice-Chancellor Prof Atul Khosla presented a vote of thanks at the conclusion of the function.

To Sir With Love for VC birthday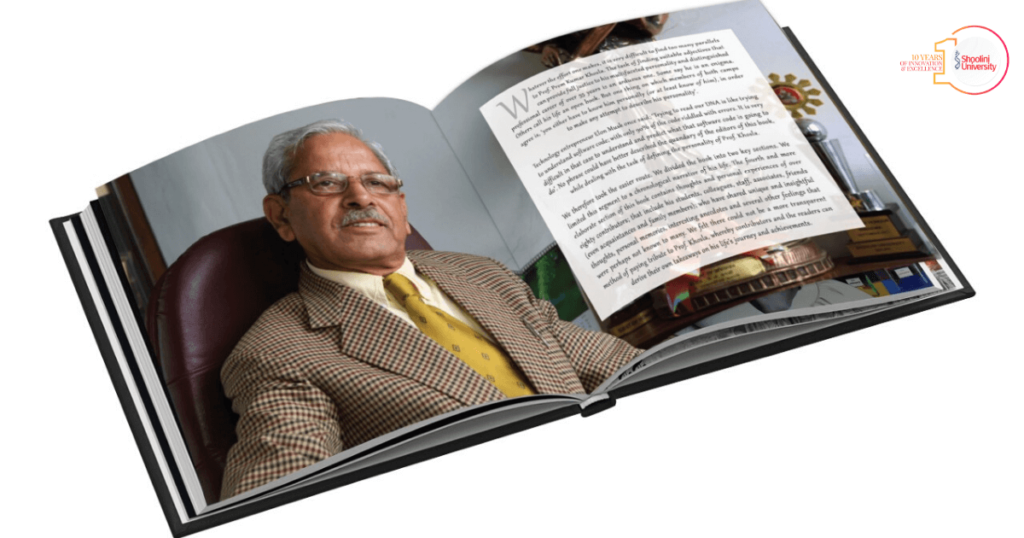 The highlight of the day was the launch of the book, To Sir With Love: Decoding the DNA of Prof P.K. Khosla. This surprise gift for the Vice-Chancellor as he turned an octogenarian weaves an interesting tapestry of memories and anecdotes shared by over 100 of his associates, colleagues, students, friends and family members.

The purpose of this compendium is to motivate young and impressionable minds, who could inculcate some of the values and learnings from the life of a brilliant researcher, teacher, administrator, entrepreneur and above all, a wonderful human being.