Mansi Gupta
Colour plays a vitally important role in our lives. We are surrounded by different colours which can soothe your eyes, even raise blood pressure or suppress your appetite. Everything from our food to our clothing has colour but most of these are made of artificial and harmful chemicals and can lead to various diseases and are not good for the environment.?
Keeping this in view, researchers from Himachal Pradesh based Shoolini University, Prof Kamal Dev and Prof Anuradha Sourirajan, along with research scholar Ms Garima Bisht, decided to perform experiments to replace chemical colours with natural eco and health-friendly colours. 
Their search for unique bacteria which could survive under extremely adverse circumstances led them to the high altitude Pangong Lake in the remote Ladakh region.
A group of students visited the 134-kilometre long lake, located at a height of over 14,000 feet from Mean Sea Level, and collected water samples to isolate unique bacteria when the lake was completely frozen. It was observed that different bacteria were surviving in the lake under extreme conditions which proved that these had strong characteristics of being helpful for the environment.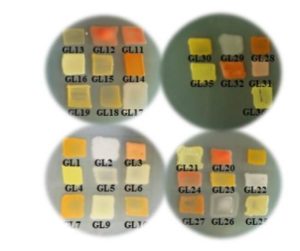 Experiments on the samples collected led them to isolate novel bacteria named Rhodonellum psychrophilum, that produces red pigment and has diverse biotechnological potential. The red pigment showed properties to kill pathogenic bacteria and fungi, enhancing the nutritional value of food and serving as a food preservative, dyeing cotton fabric that could be used in developing biological antimicrobial bandages, masks, drapery, lab coats, inner garments, etc.
Prof Kamal Dev said that the biological antimicrobial finishes promise protection against bacterial and fungal infections to provide freshness and extended product life. He said Nature produces many bio colourants from various resources including plants, animals, and microorganisms, which are possible alternatives to synthetic dyes and pigments currently employed, so as to provide safer and eco-friendly solutions.
The textile industry, for instance, uses approximately 1.3 million tons of synthetic dyes and dye precursors.
Experiments are being conducted on red pigment obtained from the novel bacteria that has various applications in the health, food and textile industry. These included its properties as an antioxidant when added to food not only to colour but increase nutrients in food and can also be used as a food preservative.
Another application of the pigment is in wound healing: The red colour pigment promotes skin cell growth and is useful in developing bio pigment ointments for wound healing. Red colour based bandages and other medicated textiles can be introduced where chemicals will be replaced by bio-pigment that would be human friendly.
Bacterial infection is the external factor that can effectively delay the wound healing process. Hence protecting the wound from bacterial infection by any agent can promote and increase the healing rate. But in recent years, human pathogenic microorganisms have developed resistance mechanisms for commercially available antibiotics. Moreover, the production costs of these antibiotics are too high and also they cause adverse side effects when compared to naturally obtained bioactive drugs, Prof Kamal Dev added.
Experiments are also being conducted on the application of the red pigment for developing antimicrobials against fungal and bacterial pathogens, bio enhancer of antibacterial and antifungal antibiotics.
Prof Kamal Dev stated that 'Microbial pigments have been reported to possess anti-cancer activity in vitro against cancer cell lines as well.'
Researchers from Shoolini University have already filed patents based upon these applications and extensive experiments are also being conducted in samples collected from Pangong lake. 
Who knows the novel bacteria from the crystal clear lake could one day help even in space exploration.