A local innovator and recent graduate from Shoolini University, Akarsh Sharma has made headlines by filing 21 patents, 10 of which have already been granted. Akarsh began his patent journey during his second year of BTech in Mechanical (Automobile) Engineering, raising the bar for young inventors across India.
His first brush with innovation came on a foggy winter morning when his car ran out of windshield fluid. This problem prompted him to create the 'Wiper Water System'. Guided by Professors Amar Raj and Susheel Kumar and backed by the Shoolini University Intellectual Property Rights (IPR) cell, Akarsh Sharma successfully transformed this straightforward concept into his first patented invention. This marked the beginning of an incredible journey with creative patents like the Stone Collector, Marker-cum-Eraser, Hand Gripper Charger, Chakrasana Yoga-Machine, Corn-Kernel Separator, and more!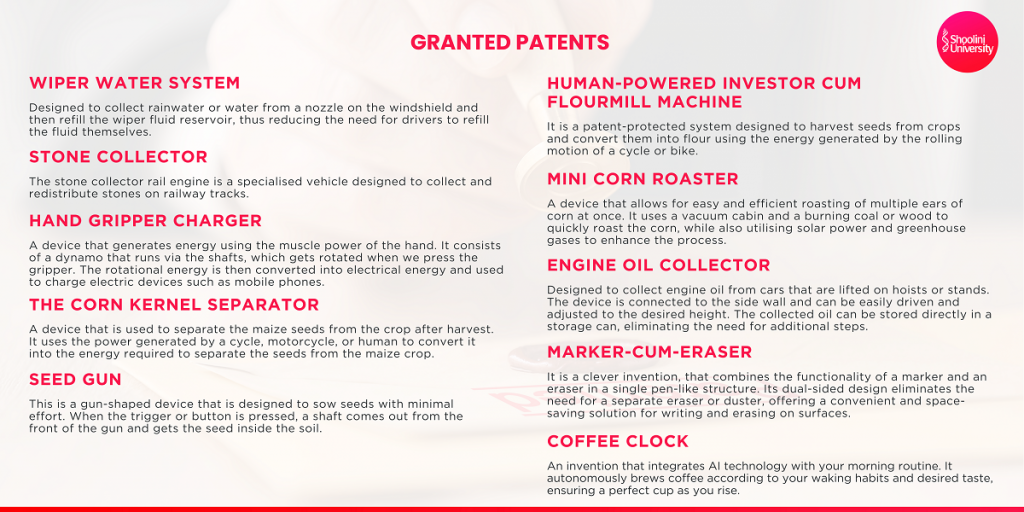 As a child, he always wanted to study beyond the borders of Himachal Pradesh, but destiny had other plans. In 2018, he found his way to Shoolini University, which changed his life forever. "Shoolini provides an ecosystem that encourages out-of-the-box ideas. With support from the faculty and administration, I was able to transform these ideas into patents," Akarsh Sharma shares.
During his BTech at Shoolini University, he also interned with top companies such as Kia Motors, Hyundai, and Nissan, gaining 13 months of valuable experience. In the challenging times of COVID when the universities were closed down, he worked with E-Clerx as an analyst, realising that the traditional 9am to 5pm job was not for him. This is where he discovered an interest in management and started preparing for the GMAT to enter a top business school.
"I wanted to study at a top business school, so I was preparing for GMAT. This is when I met Shoolini Vice Chancellor Prof Atul Khosla, who offered me an internship as a Management Trainee during my Btech at Shoolini for 4-5 months. This changed the course of my life. Under his guidance and on completing my BTech in July 2022, I started working as a business analyst with the VC and worked on consultancy strategy projects that made a significant impact. I also had the opportunity to attend some remarkable events and meet amazing people, which further motivated me."
Akarsh's journey continued to evolve as a Business Analyst at Shoolini. He conducted sessions for the ATP program for MBA students on the campus and spoke at international and domestic events, including Daffodil International University in Bangladesh and ADAMAS University in Kolkata.
Meanwhile, he cleared his GMAT and got a deferred admission into the prestigious ISB Young Leaders Program (YLP). Currently, he is working with the PwC as a Specialist in the Risk Advisory division.
Beyond academics, Akarsh's interests span football, skiing, trekking, and being a special Olympic ski coach. He actively participated in extracurricular activities at Shoolini.
In the next 10 years, he sees himself as an entrepreneur, turning creative ideas into successful businesses. He aims to connect new inventions with real-world applications, helping to grow India's economy. He will focus on key issues like renewable energy, environmental protection, and sustainability.
Akarsh Sharma's journey isn't just a story—it's a source of inspiration for everyone. It shows that you can make your dreams come true with dedication, effort, and the right setting. His experience encourages us to go after our goals and make a positive difference in the world.