Vishakha Thakur

Prof Ashutosh Mohanty, Prof and Director, Disaster Management and Climate Science Department, is a widely travelled expert in disaster management. Here are excerpts from an interview :

What is disaster management all about?

Disaster is something when we are faced with a major situation which can lead to huge destruction for life, livelihood and property. For instance, in Himalayas we are placed in two titanic plates and when they collide there is a huge risk of earthquakes in the entire Himalayan region. With disaster management preparedness, there is a good potential to reduce the chances of vulnerability.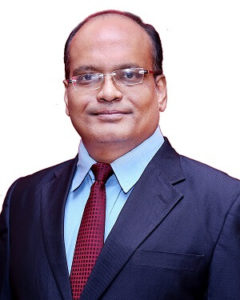 What is the potential for employment for students taking up Disaster Management as a subject?

Disaster management experts are in much demand because, as we know, disasters keep happening in various parts of the world. So if students want to pursue a career in disaster management and climate change they should also go for a master degree or a PG diploma in disaster risk management. On completion of the course, there are number of NGOs like Care India and others which they can join for their career. Even the mass communication students can take up a course in disaster communication as it has a good scope for media students. Students can also go for research. I'm currently conducting two projects on Himalayas. One of these is a study on Indus river basin where students can be opted. There is vast potential for students to make a career in the fields of disaster management and disaster risk management.

What is your disaster prospective for the Himalayas?

As per various studies conducted over the last many years a big disaster is expected in few years or may be any time in the Himalayan region. Geologists have been keeping a close watch on the movements of Himalayan plates in the region and believe a major disaster is in the offing.

Which International tie-ups have you done for Shoolini University?

There are several. These include those with the University College London and the National Dong Hwa university, Taiwan. I have also worked with various universities in China and the United States besides the Stanford University. We are in touch with more universities for collaboration and student exchange programmes. Recently we had a zero waste management programme with University of Portland, US.

What are your future plans?

I have specialisation in disaster risk management in Himalayas so I want to have an integrated disaster plan. I am also a member of National Institute Disaster Management of Government of India. I plan  to make a pool of research scholars so that in future if some disaster happens, they will have a good potential to reduce the chances of vulnerability.

How is your experience at Shoolini?

Shoolini is a very good University. Its location in natural environment gives its several advantages. It has done very well in the last 10 years but there is still potential for much more in terms of international exposure and we are working towards that.