Shoolini Universitys Department of English has been in the news for the last two years with its weekly programs. Not only do they have a tremendous reach over social media, but they also attempt to draw together people who have a literary bent of mind. Recently, its Literature Society, Belletristic, has been expanding its horizons, crossing borders, and bringing within its ambit discussions on subjects that are not pure literature but allied to the Liberal Arts. A few weeks earlier, the Society had organised a discussion on political affairs in the USA before and after Donald Trump. And now, it has another feather in its cap with a Gender Studies Seminar held online.
The speakers of the day were young enterprising women who aim at bringing about a change in society. Vandita Sharma is an alumna of the National Institute of Design, has worked in the area of spatial design, brand experience, user research and system design. Deepani Seth is a design researcher, designer, and illustrator. Shambhawi Vikram is a PhD candidate with the Centre for Women's Studies at JNU; Arushi is an IIT Delhi and Harvard alumnus, the founder of Ashvattha, a Jaipur based social enterprise and anchors the collective Pink City feminist. Swarnima is currently serving as the Curator of Global Shapers (a World Economic Forum initiative) at the New Delhi Hub. Ankita Verma teaches at Shoolini University and has a PhD in Human Resources.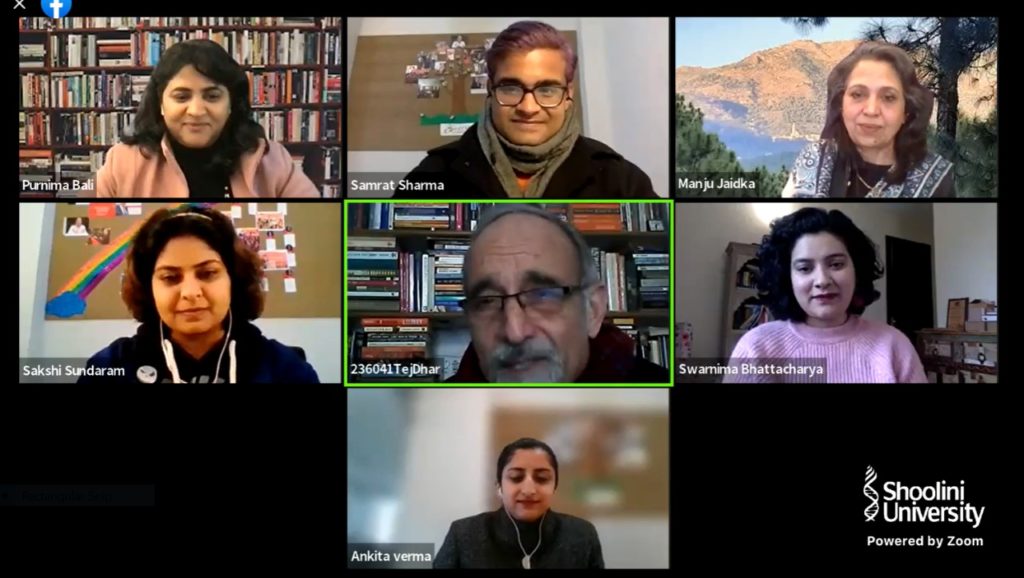 The broad title of the day-long seminar was Women and Gender Studies. This was further divided into three panels that focused on Womens Issues in India, Women and Health Rights, and Gender Inclusive Design. There were a total of six speakers, who articulated their views with great passion and conviction. While Shambhawi Vikram and Arushi spoke about the Pinjra Tod movement and the Pink City Womens movement, Vandita Sharma and Deepani Seth focused on women-centred design, and Ankita and Swarnima elaborated on how health issues among women were generally ignored in a patriarchal society.
The event provided plenty of food for thought and the Q and A sessions were lengthy and impassioned. Samrat Sharma, who conceptualised the event, was the moderator, along with Purnima Bali and Sakshi Sundaram. Senior professors of the Faculty, Tej Nath Dhar and Manju Jaidka also participated in the discussion. Neeraj Pizar deftly managed the technical aspects of the online event. The seminar was streamed live online and reached out to a large audience.
In the coming week, the Political Science Department of Shoolini will host another session. Stay tuned!