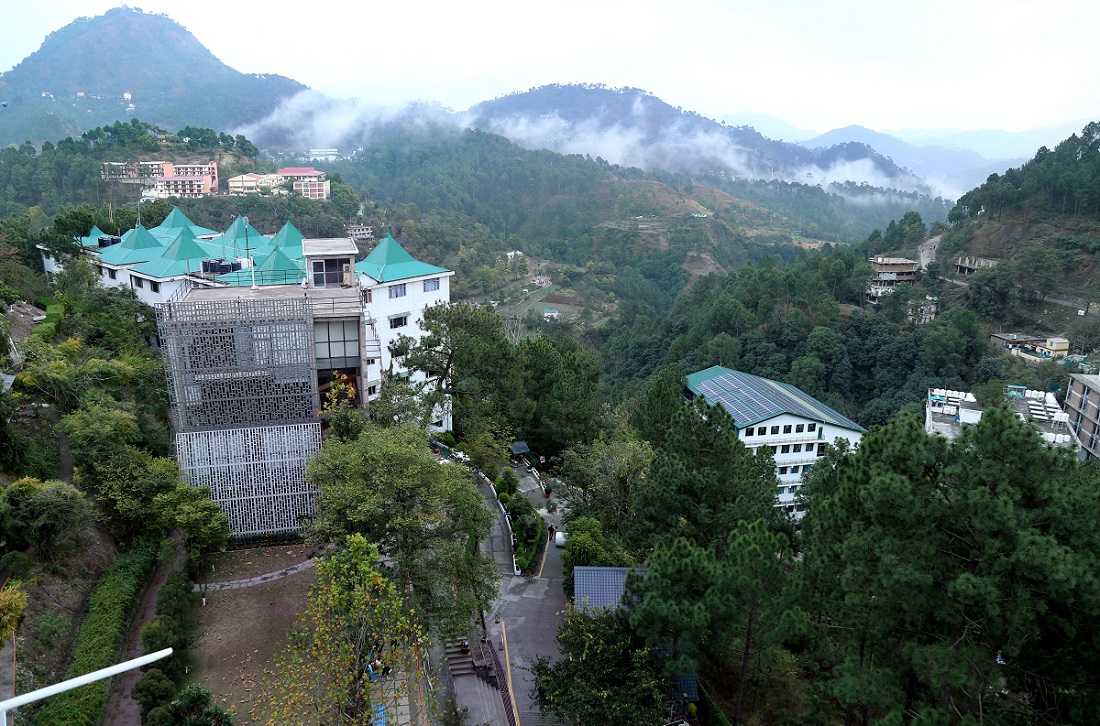 Shoolini University has been ranked among the prestigious Top 200 Global Universities and No.2 among all universities in India by THE University Impact Rankings 2023.
Chandigarh/Solan, June 2
For the second year in a row, Shoolini University has been ranked among the prestigious Top 200 global universities by the Times Higher Education (THE) University Impact Rankings for 2023.
It has also retained its position as Number 2 among all universities in the country, behind Amrita Vishwa Vidyapeetham, and is bracketed with Lovely Professional University in the 101-200 category. The University was ranked in the overall 101-200 band last year too.
Shoolini University has also bagged the top position in the country for Climate Change under the Sustainable Development Goals (SDGs) mandated by the United Nations along with LPU and Chitkara University.
Overall, nine Indian universities have made their way into the Top 400, a testament to their persistent commitment to sustainability and impactful research.
The Times Higher Education Impact Rankings, now in their fifth year, are the world's only rankings that measure the contributions of universities to SDGs and assess their commitment to sustainability across four broad areas: research, stewardship, outreach, and teaching.
Over 1700 universities from 115 countries or regions were assessed this year. Progress was measured for each of the individual 17 SDGs, which saw 18 universities from 10 countries and regions achieve No.1 positions.
Shoolini University Chancellor and Founder Prof PK Khosla said it was a matter of great pride that the 13-year-old university has retained its place among the Top 200 global universities for the second time despite stiff competition. He attributed the achievement to "the untiring efforts put in by our faculty to establish new benchmarks in teaching and research," adding that the university would strive to reach even greater heights.
Complimenting the faculty and researchers at the university, Pro Chancellor Vishal Anand said, "The rankings are a landmark achievement for the 13-year-old university. These have paved the way for the university to attain greater heights in research and SDGs."
President, Innovation and Director of Yogananda School of Artificial Intelligence, Ashish Khosla said the rankings aimed to identify and honour institutions striving for positive change and a "top spot in these elite rankings is a matter of national pride".
Vice Chancellor Prof Atul Khosla said the rankings reflected Shoolini's work in areas as diverse as Artificial Intelligence, solar energy, water conservation, innovative teaching, including patents by students, and building an energy-positive campus with gender parity.
The SDGs were adopted by all 193 member states and are a culmination of decades of work on pushing forward a global commitment to tackling the biggest issues facing our world. It was felt that universities were uniquely placed to help implement the SDGs.
Founded in 2009, Shoolini University, an innovative, research-oriented university, has emerged as one of India's leading multi-disciplinary universities and has been figuring among the top rankings by various international and national ranking agencies. While Shoolini University has come a long way in 13 years since its inception as a pioneering research-focused institute of international repute, it is now making a mark by cutting across diverse disciplines like management, pharmaceutical sciences, agriculture, basic and applied sciences, computer sciences, mass communication, engineering, and law.
Shoolini has retained 101-200 rank (Overall) as last year out of 1591 institutions globally this year and No. 2 (joint) in India. Amrita Vishwa Vidyapeetham ranked 52. Only 66 Indian institutions could figure globally in the Overall category.
Shoolini also secured rank in the 5 SDGs. It was placed 101-200 globally in SDG 3 (Good Health and Wellbeing) out of 1218 institutions, and jointly at number 4 in India out of 43 Indian institutions. It has been ranked 41 globally in SDG 6 (Clean Water and Sanitation) out of 702 institutions, and stool number 2 in India out of 45 Indian institutions.
The university was placed 43 globally in SDG 7 (Affordable and Clean Energy) out of 812 institutions, and number 4 in India out of 39 Indian institutions. It also found a place in the 101-200 band globally in SDG 13 (Climate Action)* out of 735 institutions, and number 1 (joint) in India out of 29 Indian institutions.
Besides, it was placed 201-300 globally in SDG 17 (Partnership for the Goals) out of 1625 institutions, and number 3 in India out of 67 institutions.