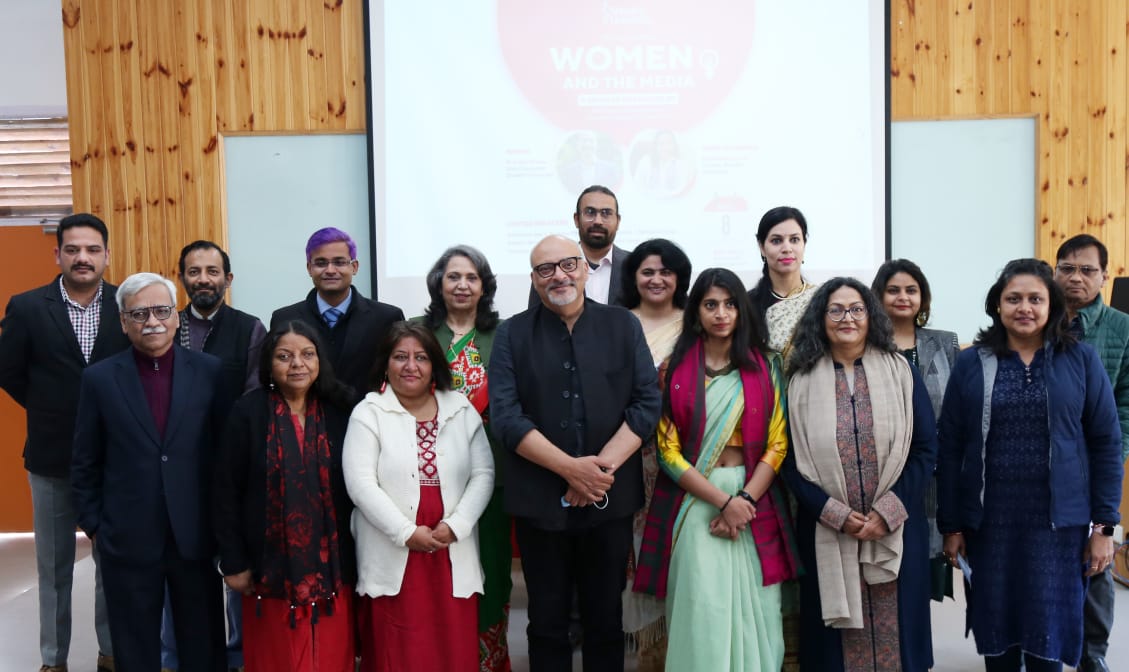 The Chitrakoot Faculty of Liberal Arts, Shoolini University, in collaboration with the School of Journalism, hosted a day-long seminar on 'Media and Women' to celebrate International Women's Day on Tuesday.
Solan, March 9
The Chitrakoot Faculty of Liberal Arts, Shoolini University, in collaboration with the School of Journalism, hosted a day-long seminar on 'Media and Women' to celebrate International Women's Day on Tuesday. The event, with many prominent journalists from across the country in attendance, featured four sessions, addressing major issues concerning women in the media.
Expressing his views on working women, Shoolini University Chancellor Prof PK Khosla used examples from history to demonstrate the importance of women empowerment. Vice Chancellor Prof Atul Khosla described how media influenced him at a young age. "Inspire, be humble, take risks, be intuitive, and the world will be yours," he said, urging the journalism students to remain objective and neutral.
Director and Head of the School of Journalism and New Media Prof Vipin Pubby delivered the opening remarks, followed by an introduction and welcome note by Faculty of Liberal Arts Dean Prof Manju Jaidka.
In her opening remarks, Shoolini University Trustee Nishtha Anand, who was the guest of honour, said, "You can be whoever you want, whatever you want… and if these women have broken the glass ceiling that early, you can too." She envisioned a media industry where men and women contributed equally.
The session, 'Smashing Boundaries: Glass and Other Ceilings', was chaired by senior journalist Ashwini Bhatnagar, along with panellists, comprising author and journalist Jupinderjit Singh, and Contributing Editor, News18.com Ashwini Bhatnagar. They cited examples of women in the industry and the outstanding work they have accomplished. He shared statistics about women journalists in various newspapers to describe the ground scenario of women in the media. "Women are there, but not really there," he said. Jupinderjit Singh quoted statistics to highlight the sharp decline in the number of women working in leading media organisations. According to Swati Bhan, it was important to strike the right balance in this profession.
Nidheesh Tyagi gave a brief overview of journalism and encouraged students to read and gather additional information. Nirupama Dutt pondered the question of how a journalist chooses the truthful perspective of a story. "As a journalist, you should look for a story that isn't being reported and ask why it isn't being reported," she said. Aishwarya Iyer said a reporter should always seek honesty from the person he/she is reporting about.Freelance Journalist Vandana Shukla moderated the session 'Does Honesty Have a Gender?' the panellists were, veteran journalists Nirupama Dutt, Nidheesh Tyagi and investigative journalist Aishwarya Iyer. "Women are always told that the future belongs to them, but what about the present," said Vandana Shukla, while discussing the subject.
Nidheesh Tyagi moderated the third session, 'Duplicity and Deception: Dangers of New Technology in the Media', with panellists Vandana Shukla and Anuradha Shukla, Associate Editor, News18. Tyagi used real-life examples to provide an overview of social media and its impact. Anuradha Shukla, a digital media professional, provided insight into how the industry works based on facts rather than opinions. "Digital media is the present and future of journalism," she concluded.
Vandana Shukla described the difficulties that on-the-ground journalists faced and urged students not to be enamoured by the glamour.
The concluding session 'Sexual Harassment at Workplace' was chaired by Director and Head, School of Journalism, Shoolini University, Prof Vipin Pubby, along with panellists Archana Phull and Ashwini Bhatnagar. Pubby stated in his opening remarks that despite the fact that women outnumbered men in the media industry, sexual harassment at work was rarely discussed. He used statistics to back up his claim, citing a report that stated, "One-third of women in the media industry have experienced sexual harassment, and half of them did not report it. These issues are more pronounced in smaller cities than in larger cities." Archana Phull shared her work and field experiences, stating that she had never experienced sexual harassment.
The seminar proved to be an enlightening session for students, who learnt tremendously from the reputed journalists and mediapersons.