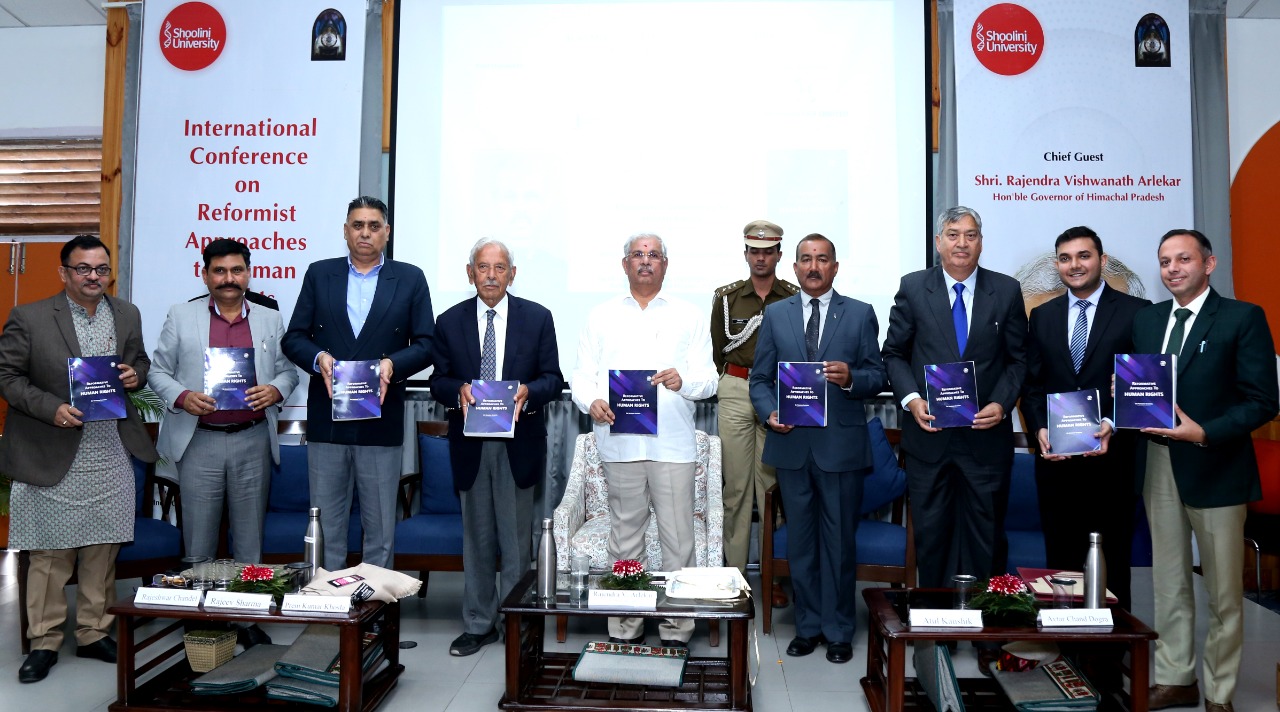 Mr Rajendra Vishwanath Arlekar, the Governor of Himachal Pradesh, welcomed on the Shoolini campus.
Solan, November 10
The two-day international conference began on a spectacular note as our NCC cadets welcomed chief guest Mr Rajendra Vishwanath Arlekar, the Governor of Himachal Pradesh, on the Shoolini campus. He was here to inaugurate the two-day international conference on the Reformist Approaches to Human Rights, organised by the Faculty of Legal Sciences, Shoolini University, in collaboration with the Himachal Pradesh State Human Rights Commission (HPSHRC).
Speaking at the inauguration ceremony, he said the future of the nation depended on what the youth were thinking and doing. An average man's right to a life of dignity was the only fundamental human right that counted, he said. "However, countries that have had books published about their human rights violations are targeting India for violations of such rights," he added.
"Laws can be enacted to defend human rights, but we must act like humans in order to do so," he emphasised, exhorting the audience to try and live a good life.
Shoolini University Founder and Chancellor Prof PK Khosla spoke about goals and perseverance during his address. "With proper effort and planning, anything is possible," Prof Khosla said.
While addressing the audience, University of Horticulture and Forestry, Nauni, Vice Chancellor Prof Rajeshwar Chandel discussed new problems and approaches to human rights issues. He stated, "Malnutrition is the silent killer and the most recent human rights concern, so we need to take it very seriously."
HPPERC chairman Mr Atul Kaushik spoke about how despite being a fundamental human right, technology has altered freedom of thought. "This generation needs to earn the freedom to think," he emphasised. The chairman also discussed the negative consequences of the digital age and social media on our surroundings.
Former acting chief justice of the Punjab and Haryana High Court and the Uttarakhand High Court Justice Rajeev Sharma discussed the history of freedom of speech and expression. He advised law students to study what philosophers wrote about freedom and its meaning.
Himachal Pradesh State Human Rights Commission member Avtar Chand Dogra spoke on the Magna Carta, human rights, and their connection to Hinduism's Dharma. He shared anecdotes about important historical judgments in support of human rights.
The conference also marked the launch of the book 'Reformative Approaches to Human Rights' authored by Dr Nandan Sharma, Associate Dean, Faculty of Legal Sciences.
In his closing remarks, Shoolini University Pro Chancellor Mr Vishal Anand said India has a real chance to become a global power.
Two-Day International Conference Concludes
Solan, November 11
A two-day international conference on Reformist Approaches to Human Rights at Shoolini University concluded on a high note on Friday. Chief guest on the concluding day was Mr Lenin Raghuvanshi, Founder and CEO, People Vigilance Committee on Human Rights (PVCHR).
During the conference, a Memorandum of Understanding (MoU) was signed with three major human rights working foundations, Ladli Foundation Trust, People Vigilance Committee on Human Rights (PVCHR) and the All India Council of Human Rights, Liberties and Social Justice (AICHLS).
Elaborating on Adi Shankaracharya's worldview and the Vedic reformation methods, Mr Raghuvanshi said, "Reform is science, reality, and art."
Chancellor Prof PK Khosla discussed his reformation process as well as his experiences with the legal and judicial systems.
Ladli Foundation founder and CEO Mr Devendra Kumar spoke about the ways and methods to improve social conditions. He also discussed his visit to the Raj Bhawan and meeting with President Mrs Draupadi Murmu. "When there is a lack of effort toward our duties, human rights are violated," Mr Devendra stated.
Himachal Pradesh University Faculty of Law Dean Prof Sanjay Sindhu highlighted aspects of human rights from the Indian Constitution. He also raised concerns about the unregulated nature of online media platforms.
A panel discussion was held on the 'Framework of the Criminal Justice System'. Shoolini University School of Legal Sciences Associate Professor Renu Pal Sood moderated the panel debate. Panellist Mr Anthony Raju discussed the death sentence and judicial responsibility. He also spoke about the criminal justice system.
School of Journalism and New Media director Mr Vipin Pubby spoke on media trials, media over-reporting and the role of electronic media. "Media cannot and should not operate carelessly," he added. Assistant Professor and panellist Gitanjali Thapar observed, "If we want to carry out the changes, sensitising the youth is more important."
Research scholars from the university and from other institutions presented their research papers. The conference's organiser, Dr Nandan Sharma, gave a summary of the proceedings.