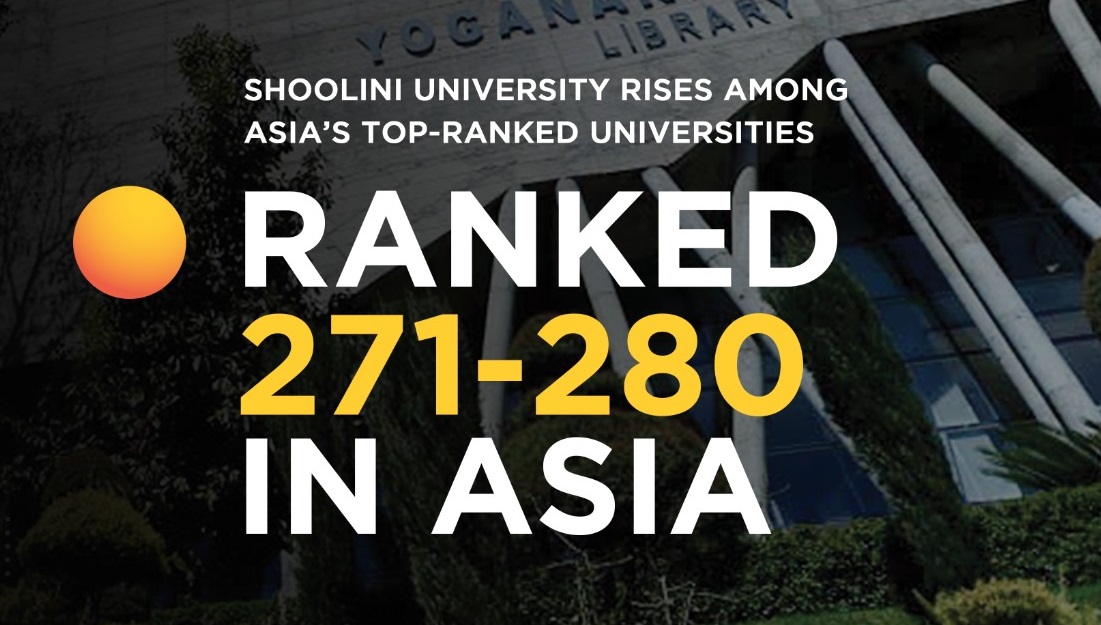 Retains No. 1 position in Citation Impact
Leaving behind several established universities like the Panjab University, Guru Nanak Dev University and Himachal Pradesh University, Solan-based Shoolini University has come out tops in the prestigious Quacquarelli Symonds (QS) rankings 2022, declared recently.
Retaining its Number One position in the country for citation per publication, Shoolini University of Biotechnology and Management Sciences has climbed from the 14th position to joint 4th in Asia in the same category this year.
In the overall Asia rankings, the 12-year-old university is now in the 271-280 slot, climbing from 291-300 last year. Among the over 1,000 universities in the country, Shoolini has been ranked 35th this year, going up three notches from its 38th position last year. It stands at the 8th position among private universities in the country. The QS Asia University Rankings 2022 have been published on topuniversities.com website.
Panjab University found place in the 301-350 bracket, GNDU is in the 451-500 group and Kurukshetra University is in the 601-650 band. HPU does not figure in the list. Chandigarh University is bracketed with Shoolini University in the 271-280 slot.
The rankings are done based on a wide criterion, including academic reputation, staff-student ratio, papers per faculty, citation impact, international research network, international staff and students, exchange students and employer reputation. The QS Asia considered 687 institutions in Asia, including 38 new institutions during the period under review. A total of 117 institutions were evaluated in India.
Congratulating the faculty and researchers on the achievement, founder and Chancellor Prof PK Khosla said this was a gigantic step towards its goal of being among the top 200 global universities.
Vice Chancellor Prof Atul Khosla said it was a matter of great pride that Shoolini University is the youngest among the top ranked by QS Asia. It has performed better than most IITs, Panjab University and several other established institutions.
Pro Chancellor Mr Vishal Anand, while congratulating the researchers, faculty, and students, brought attention to the fact that it is the only institution in Himachal Pradesh to find place in the prestigious list.
The young, Trust-run university, which has been making waves in the field of research and innovation, was recently placed third in the Education Ministry's list for filing patents in the country which was topped by the combined output of all the 23 IITs of the country. So far, its researchers have filed over 700 patents.
The university, located at Bajhol village in Solan district of Himachal Pradesh, got the 89th rank by the National Institutional Rankings Framework (NIRF) under the government of India's education ministry.
In a recent achievement, seven of its faculty members figured among the top 2 per cent scientists of the world, as per a study done by the Stanford University.