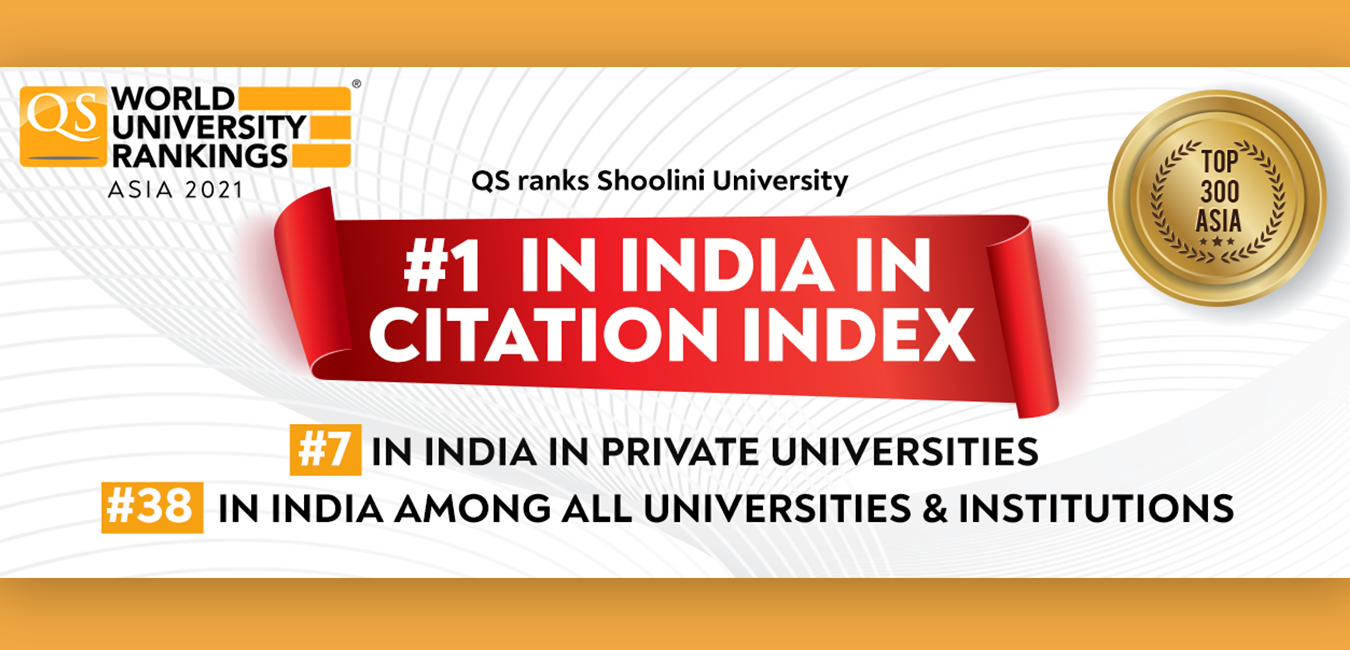 In the 2021 world QS rankings, this mere 11-year-old university from India has ranked highest in India for citation index, a key indicator of research quality.
In the 2021 world QS rankings, this mere 11-year-old university from India has ranked highest in India for citation index, a key indicator of research quality.
The Himalayan region of India has been on the international map for the traditional wisdom it holds. But the 2021 world QS rankings show how it could be on its way to becoming a hub of modern research and innovation as well. Shoolini University of Biotechnology and Management Sciences, nestled in a small district of Himachal Pradesh, India, and founded only a decade ago, has recently ranked 14th in Asia and 1st in India in the citation index category, beating the more eminent and established Indian universities.
Since ancient times, Indian scholarly work, philosophy, and wisdom have been part of the global academic literature. In the modern times, some Indian Universities such as Jawaharlal Nehru University (JNU) have been well known worldwide for over a century. And in the recent decades, several other Indian universities, such as the Indian Institutes of Technology (IITs), Indian Institute of Science Education and Research (IISER), Delhi University, and so on, have increasingly made a name for themselves internationally -- on one research front or another.
This year, a merely decade-old university has joined these ranks and come out on top in a way that these stalwarts haven't before, highlighting India's growing footprint in modern research and innovation and raising the question, 'Are newer ways and technologies the path to the future?'. Shoolini University, a private institute in Himachal Pradesh, India, has appeared first in the country, and 14th in Asia, in the Quacquarelli Symonds (QS) 2021 rankings for citation index, a key indicator of research quality. Overall, it ranks among the top 300 univeristies in Asia. Considering the thousands of universities and higher education institutions in Asia alone, making it into the top of the Citation index category in the 2021 QS rankings is a remarkable feat. Shoolini University might just be a trailblazer among the newer universities in India. If India was not at the head of cutting edge innovation before, it is well on its way now.
The university has also maintained a high Field Weighted Citation Impact (FWCI) of around 2.27, which is comparable to the top 10 global universities. Additionally, their H-Index is currently 68.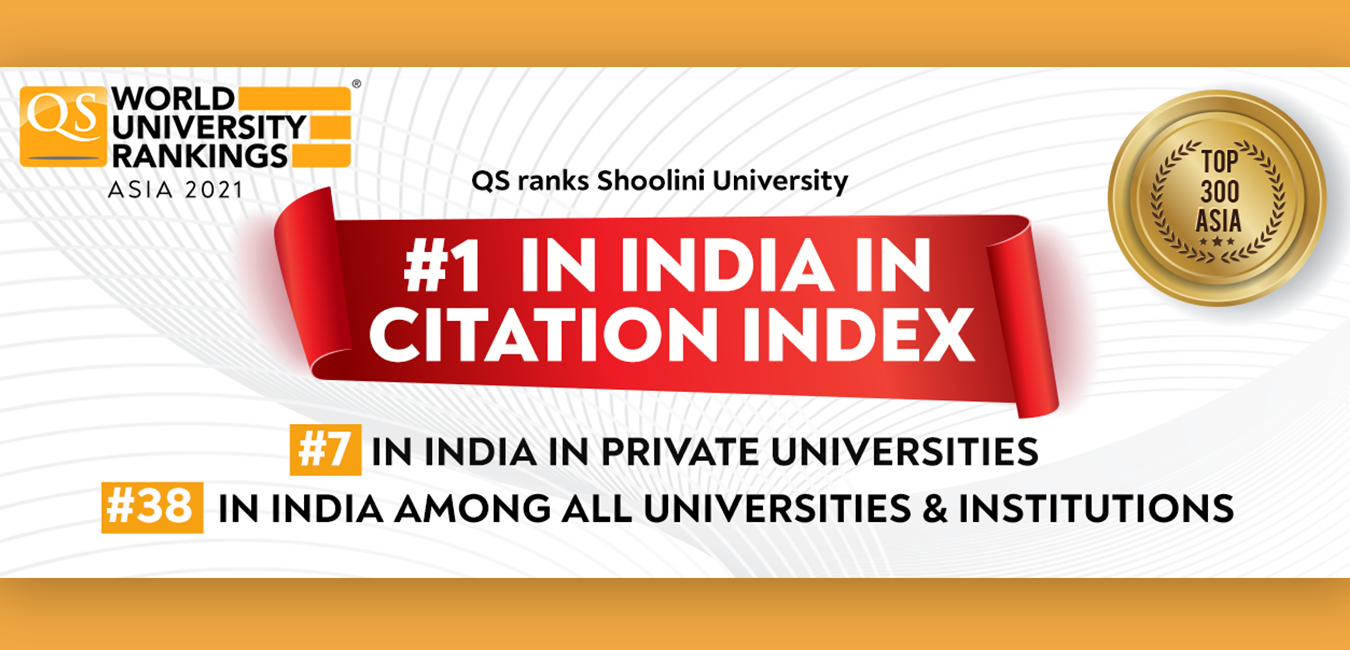 Shoolini University was born in 2009 with the vision "to be a top 200 global university by the year 2022" and "provide world-class education to students from smaller towns". Since then, through high-quality research and training, and state-of-the-art technological infrastructure, its scholars have established themselves and been recognized globally. Today, the university nearly tops the country on another front as well: it has filed more than 450 patents in just the past decade. And at least seven of its researchers have been named in Stanford University's list of top 2% of scientists worldwide.
Earlier, the university had become one among only 35 of the one lakh institutions to receive the QS certification for Excellence in Academic Digitalization. It has also been shortlisted for the Times Higher Education Asia Awards 2020 in the "Outstanding Student Support" category. But this is the first time that the university has featured in the QS global rankings, and deservedly so.
Prof. PK Khosla, Founding Vice-Chancellor of the university, says: "The QS rankings reflect the hard work and sincerity that has gone into making these achievements. I would say we are well on our way to realizing our vision, and our university is poised to reach greater heights." He conceived the university after retirement with the idea of bringing world-class research to Indian higher education.
Talking about the ranking, Shoolini University founder & president Vishal Anand says, "We seeded Shoolini University to enable a campus of 24x7 research in the Himalayan research. A culture of reserch is enabling many outliers among our team."
The QS rankings consider several categories including academic reputation, employee reputation, faculty-student ratio, staff with PhDs, paper citations, global research networking, research output, international collaboration and inclusion with respect to faculty and students, and inbound and outgoing exchange students. At only 11-years old, Shoolini has made it to the rankings list on these fronts and topped the country in one of them.
So, perhaps 2022 is an ambitious target for these achievements, but given these laurels that the university has already borne, the true target will not be far off. Shoolini University has brought the world to India and in the decades to come, it will have taken India to the world.