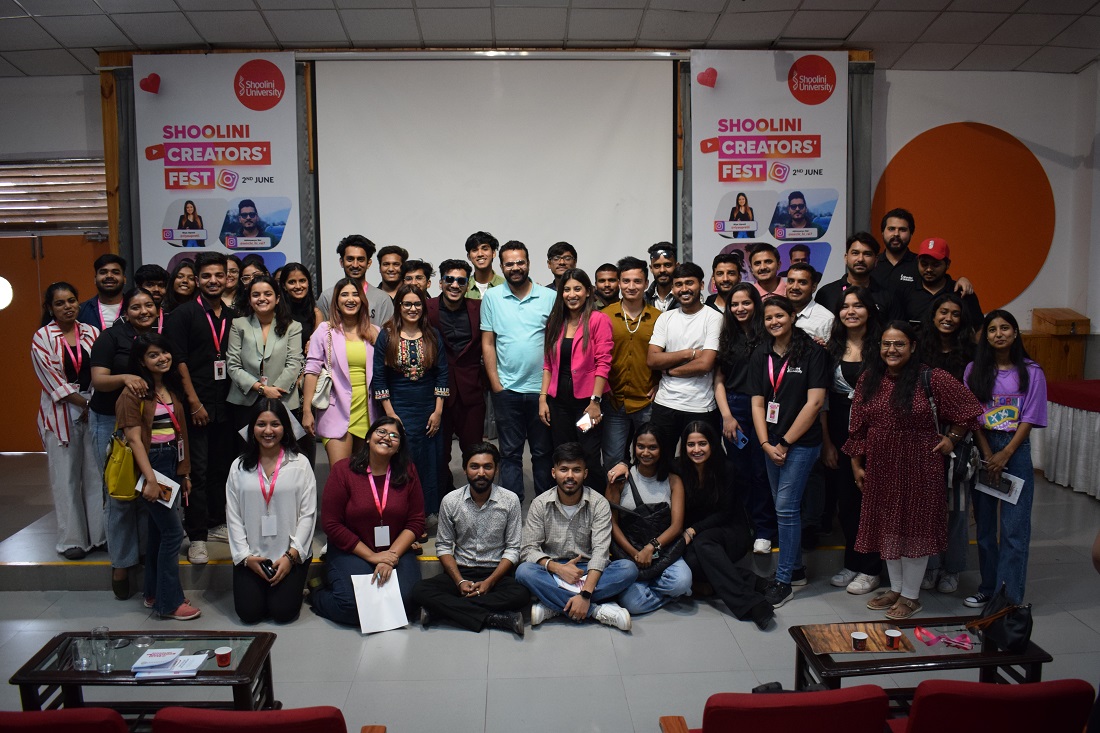 Shoolini Creators' Fest brought together social media influencers, entrepreneurs, and experts to inspire students in the field of content creation.
Shoolini University recently hosted the much-awaited Creators' Fest, a vibrant event organised by the university's Communications Team. This one-of-a-kind fest brought together an array of social media influencers, entrepreneurs, radio jockeys, nutritionists, skill coaches, and tech experts, all with an impressive presence in the media industry and a portfolio of remarkable work.
The primary objective of the event was to acquaint students with the unconventional yet promising career path of content creation and entrepreneurship. It aimed to inspire and guide them on how to embark on a successful journey in this thriving field.
The fest kicked off with a series of sessions moderated by Shivansh Garg, an angel investor and mentor. The first speaker to grace the stage was Riya Upreti, the 21-year-old CEO and founder of Fobet – A School Psychology. Riya, who has already achieved a 7CR revenue in her business, shared invaluable insights on approaching employers, building a compelling portfolio, and standing out from the crowd.
Riya's entrepreneurial journey began at the age of 19 during the lockdown in 2021. Recognising the need for more mental health advocates, she decided to train individuals on providing Mental Health First Aid. Her efforts aimed to help people combat the fear and anxiety brought about by the COVID-19 pandemic.
Following Riya, Kriti Sharma took the stage. As an edupreneur and the youngest educator on Unacademy, Kriti offers free online education and runs a popular YouTube channel called Creative Learning. She enlightened students with effective strategies to attract a larger audience on social media and answered questions about maintaining relevance and creating content professionally.
Manan Verma, a software engineer and Associate Director at Physicswallah, took the spotlight next. With an impressive work history that includes top unicorns like Urban Company, upGrad, Make My Trip, and Zycus, Manan shared invaluable insights on landing a job at billion-dollar companies. He discussed his personal journey, emphasising the importance of networking and acquiring the right knowledge to achieve success.
To uplift the atmosphere, Shivani Sharma Singh, a prominent blogger and digital creator, shared her relatable journey as a media student turned social media influencer. Her friendly personality and inspiring story resonated with students, showcasing the possibilities that lie in pursuing one's passion.
Then, Nutritionist Abhilasha Sharma captivated young minds with some healthy lifestyle tips. She shared valuable insights on how to forge a successful career as a Nutritionist. Abhilasha also emphasised the importance of cultivating a healthy lifestyle, offering practical tips and knowledge. The students, brimming with curiosity, absorbed her words eagerly. By the end of the session, they felt confident and assured, knowing that their chosen careers held a promising future.
Shivansh Garg, the moderator, then took the stage to share his own journey. From being a drop-out from IIM to becoming a successful mentor and influencer, Shivansh introduced students to innovative methods of using ChatGPT and leveraging Artificial Intelligence to generate income.
Finally, popular radio jockeys from Radio Mirchi brought their experiences to the forefront. RJ Abhimanyu, known for his Mandyali persona and captivating stories, RJ Anmol, who leads the radio show Veerji Badkaji, and RJ Manisha, an exceptional voice-over artist specialising in dubbing and celebrity impressions, shared their insights from their vibrant careers.
The event concluded with an engaging panel discussion where students had the opportunity to interact with the influencers and discuss the future of content creation. They delved into topics such as evolving consumption patterns, potential risks to employment, and possible solutions. This informal interaction allowed students to voice their concerns and absorb valuable lessons from the influencers' experiences.
In the evening, the fest transformed into a mesmerising musical gig, featuring talented singers from the university and members of the Saksham Dance Club. The guests and audience alike sang and danced along, creating an electric atmosphere.
The day-long event achieved its goals of enlightening students about content creation as a profession. It not only helped them forge valuable connections but also opened doors to various career opportunities. The influencers not only create content for themselves but also engage in side hustles, providing students with insights on turning traction into a thriving business. The key takeaway for everyone was the importance of investing in oneself.
Aarshi Rai
June 07, 2023