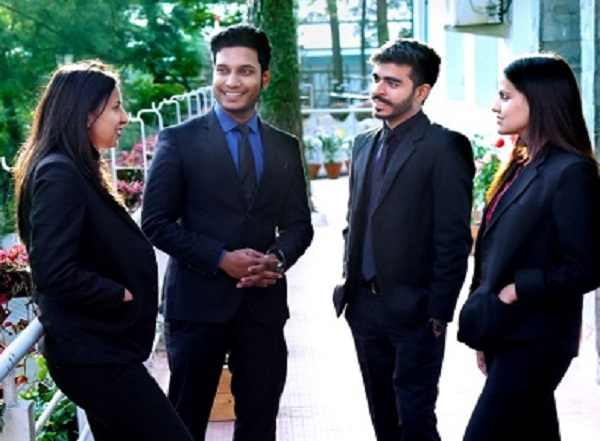 Placement Cell also in talks with several leading companies for directly hiring students passing out in 2022, says Associate Director, Special Projects and Alliances, Mr Rohit Khosla
Manan Monga
Shoolini students continue to fly high despite the lockdown and sluggish business. Thanks to the proactive and dedicated Placement Cell on the campus, another 35 industry giants have hired our brilliant students for high-profile jobs.
The new companies included HCL, Cognizant, BYJU'S, Pontika Aerotech, HANU, Pinkerton, Bajaj Finserv, Franchise India, Serum institute of India, I-Gene, Contemi and Crescendo. Associate Director, Special Projects and Alliances, Mr Rohit Khosla, said the university was further building upon its good track record in placements.
Referring to some recent placements on the campus, he said BYJU'S has hired students from BBA and MBA with packages amounting to Rs 10 lakh per annum. "Another prominent company, Mankind, has also hired students from the university, of which 15 are from Pharmacy and four from Applied Sciences," he elaborated.
Mr Khosla said the Placement Cell was also in talks with several leading companies for directly hiring students passing out in 2022. These included HANU and Orange Business Services. AU Bank was also among the companies interested in hiring Shoolini students through campus placements.
He said the world was shrinking and all industrial giants were already laying down procedures to recruit students from the 2022 batch. "They will impart on-the-job training and provide every kind of curriculum assistance. The university will work in tandem with top industrial houses, so that students are ready to make their mark in the global arena right after completing their courses," Mr Khosla explained.
Responding to queries about the companies where the university has sent students for internships, he named renowned organisations such as, the Times of India, Biogentek, The Leading Solutions, Capital Box, Bridge Group, Spice Group, Insplore Consultants, IDBI Federal, The Indian Express, Hindustan Times, ITV Network, and the Bhaskar Group.
The university provides a unique learning environment to students, enriching their minds and preparing them for placements through cutting-edge programmes, he said. "SPRINT, inspired by Stanford's mini-MBA programme, equips students with dynamic employment opportunities. It involves exhaustive sessions combined with technical and soft skills using an interactive approach. This upgrades the skills and capabilities of students manifold, and they are able to nail any interview," he explained.