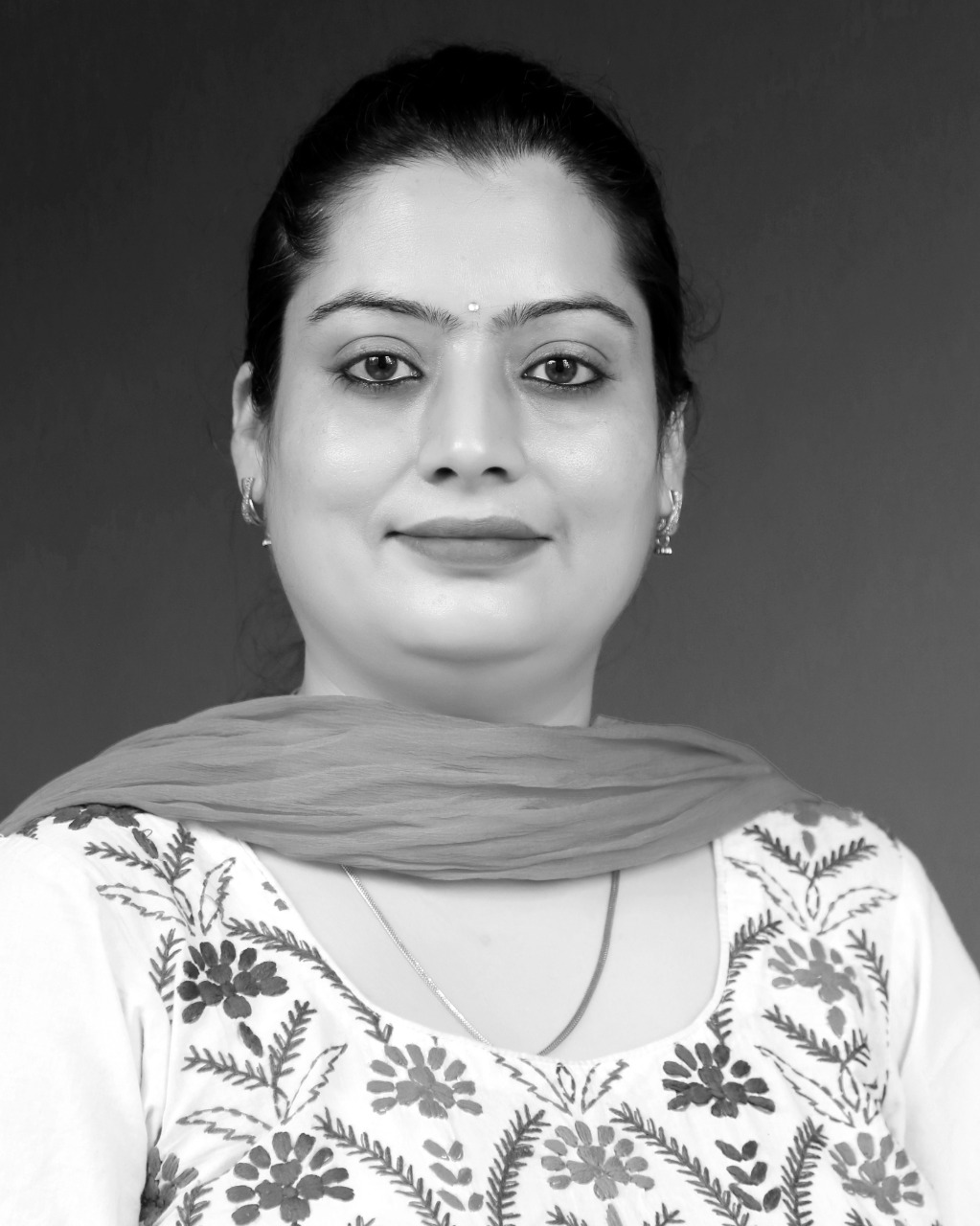 Devanshi Pandit is an Assistant Professor at the MS Swaminathan School of Agriculture, where she is teaching and conducting research in Plant Pathology. She has done the MSc in Plant Pathology from Chaudhary Sarvan Kumar Himachal Pradesh Krishi Vishwavidyalaya, Palampur.
Devanshi Pandit worked at the Department of Agriculture (HP) under the Centrally sponsored scheme (NMAET) as Block Technology Manager (2011-2012) and Department of Agriculture (J&K) under Centrally sponsored scheme (NMAET) as Assistant Block Technology Manager (2014-2017). She will be completing her Doctorate from SKUAST-Jammu in 2021.
She has attended 12 national and international seminars, conferences, symposiums and trainings and published research papers in national and international journals of high repute. Her present area of research includes identification, variability studies and management of plant pathogens; identification and diagnosis of disease samples and their remedial measures to farmers. She is a life member of "Society for bioinformatics and biological sciences" and Editorial Member (Plant Pathology) of "Just Agriculture" eMagazine.
Publication
Devanshi Pandit and R. P. Kaushal. In vitro evaluation of bio-control agents, biopesticides and botanicals against Colletotrichum truncatum causing anthracnose of horse gram (Macrotyloma uniflorum). International journal of current microbiology and applied sciences. 2017, 6(10): 2532-2542. (NAAS score: 5.38)
Devanshi Pandit. Effect of temperature, relative humidity, photoperiod on anthracnose of horse gram and role of weather parameters in development of anthracnose of horse gram disease in Himachal Pradesh. Journal of global biosciences. 2020, 9(7): 7725-7734 (Impact factor: 3.028)
Devanshi Pandit. Chemical control of anthracnose (Colletotrichum truncatum) of horse gram under field conditions. International Journal for research in applied science and engineering technology. 2020,8(7): 2084-2086. (Impact factor: 7.429)
Sardar Singh Kakraliya, Dechan Choskit, Devanshi Pandit and Sonali Abrol. Effect of bio-agents, neem leaf extract and fungicides against Alternaria leaf blight of wheat (Triticum aestivum L.). International Journal of advanced biological and biomedical research. 2018, 6(1):23-34. (NAAS score: 4.64)
Amritpal Mehta, S.K. Singh, Ashwani Kumar Basandrai, Devanshi Pandit. Durable Resistance of crops to disease. Just Agriculture (e-magzine). 2020, 1(4): 238-2441.
Sardar Singh Kakraliya, Devanshi Pandit, Shazia Paswal, Sonali Abrol, Dechan Choskit and Shiekh Saima Khushboo. Trichoderma species a Bio control Agent for Sustainable Management of soil Borne Diseases. Just Agriculture (e-magazine). 2020, 1(3): 057.
Sonali Abrol, Devanshi Pandit, Dechan Choskit, Sheikh Saima Khushboo. Rice cultivation under changing climate with mitigation practices. Just Agriculture (e- magazine). 2020, 1(3): 026.
Sardar Singh Kakraliya, Sonali Abrol, Dechan Choskit and Devanshi Pandit. Integrated Disease Management in Agriculture. Just Agriculture (e-magazine). 2020, 1(3): 002.
Sardar Singh Kakraliya and Devanshi Pandit. Mycoparasitism of Mycogone perniciosa inedible fungi. Just Agriculture (e-magazine). 2020, 1(3): 020
Sheikh Saima Khushboo, Vishal Gupta, Devanshi Pandit, Sonali Abrol, Dechan Choskit Saima Farooq and Rafakat Hussain. Epidemiology of stripe rust of wheat: A Review. International journal of current microbiology and applied sciences. 2021, 10 (01): 1-14 (NAAS score: 5.38)
Devanshi Pandit., Singh, A.K., Singh, S.K., Singh, V.B., Khushboo, S.S., Abrol, S., Choskit, D. and Kakraliya, S.S. 2021. Occurrence of rice blast disease caused by Pyricularia oryzae under mid-hills and sub-tropics conditions of Jammu. Journal of Pharmacognosy and Phytochemistry, 10 (2): 211-213.
Devanshi Pandit., Singh, A.K., Singh, S.K., Kumar, B. and Singh, V.B. 2021. Evaluation of rice germplasm against rice leaf blast caused by Pyricularia oryzae. Plant Disease Research. (Under review)