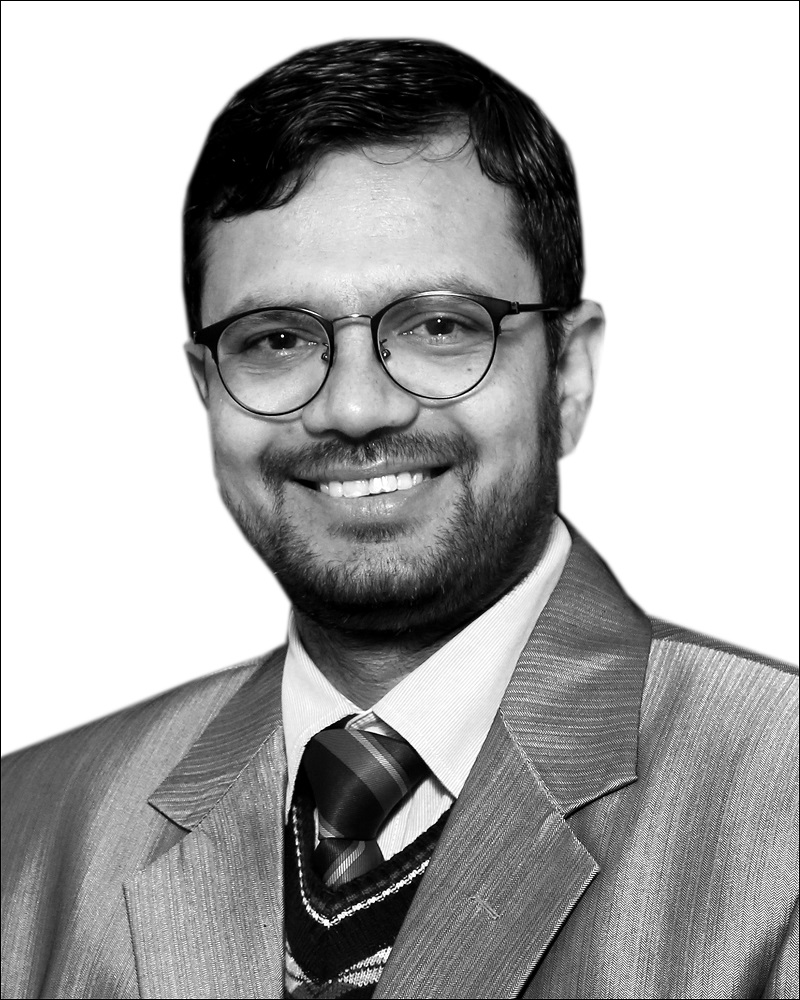 Deepak Kapoor has more than 15 years of teaching, research and industrial experience. His key areas of research are development and optimization of novel drug delivery systems such as nanoparticles, nanoemulsions, niosomes, liposomes, ethosomes, implantable systems, topical and transdermal systems.
He qualified GPAT and received PhD (2012) in Pharmaceutical Sciences from UGC-CAS, UIPS, Panjab University, Chandigarh and was awarded SRF from CSIR and research Fellowship from IPCA Labs Ltd.
Along with more than 40 national and international publications in the form of a monograph series book, book chapters, research and review articles, Deepak Kapoor has also filed numerous patents on the development of novel pharmaceutical formulations. Not only has he completed a research consultancy project funded by DRDO but has a utility and design patent granted to his credit as well. At present, he is working on consultancy projects in the industry and academia and conducting research in Pharmaceutical Sciences.
He received an international travel award from CSIR to present a paper at Barcelona, Spain, and by ACS to attend a workshop at Melbourne, Australia. He is the chairman of IAEC, Shoolini University. He has guided three PhD and more than 15 M Pharm students.
Deepak Kapoor has been an AMRSC with the Royal Society of Chemistry, UK, and is a life member of the Indian Pharmacy Graduates Association (IPGA) and Fellow of the Society of Life Sciences (FSLSc).
Publication
Peer-Reviewed Journals:
Prince Manta, Suresh Chandra Singh, Aman Deep, Deepak N Kapoor, Temperature Regulated Gold Nanoparticle sensors for Immune chromatographic Rapid test kits with reproducible Sensitivity: A study, IET Nanobiotechnology (2020).
Aditya Shiven, Afroze Alam, Deepak N. Kapoor, Natural and synthetic agents for the treatment of Sarcoptes scabiei: A review, Annals of Parasitology (2020), Accepted.
Prince Manta, Rupak Nagraik, Avinash Sharma, Akshay Kumar, Juber Dastagir Shaikh, Roopvir Kaur, Ana Francesca Vommaro Leite, Silas Jose Braz Filho, Nimisha Shiwalkar, Purnadeo Persaud and Deepak N. Kapoor, Optical Density Optimization of Malaria Pan Rapid Diagnostic Test Strips for Improved Test Zone Band Intensity, Diagnostics (2020), 10, 880.
Manta Prince, Pritt Verma, Louis Cojandaraj, Shruti Singh, Akanksha Pangotra, Shravan Kumar Paswan, and Deepak N Kapoor. Analytical Approach for the Optimization of Desiccant Weight in Rapid Test Kit Packaging: Accelerated Predictive Stability (APS). Systematic Reviews in Pharmacy (2020), 11, 102-113.
Tan YY, Yap PK, Xin Lim GL, Mehta M., Kapoor D.N. et al. Perspectives and advancements in the design of nanomaterials for targeted cancer theranostics [published online ahead of print, 2020 Aug 5]. Chem Biol Interact. 2020; 109221.
Altamish M, Dahiya R, Singh AK, Kapoor D.N. et al. Role of the Serine/Threonine Kinase 11 (STK11) or Liver Kinase B1 (LKB1) Gene in Peutz-Jeghers Syndrome. Crit Rev Eukaryot Gene Expr. 2020;30(3):245-252.
Sharma M, Prasher P, Mehta M, Zacconi FC, Singh Y, Kapoor DN, et al., Probing 3CL protease: Rationally designed chemical moieties for COVID-19 (2020), Drug Development Research, 1-8.
Prince Manta, Deepak N Kapoor, Gurmeet Kour, Manpreet Kour, Abhishek Kumar Sharma. Critical Quality Attributes of Rapid Test Kits – A Practical Overview. Journal of Critical Reviews. (2020), [cited July 15, 2020]; 7(19): 377-384.
Parteek Prasher, Mousmee Sharma, Alaa A. A. Aljabali, Gaurav Gupta, Deepak N. Kapoor, et al., Hybrid molecules based on 1,3,5-triazine as potential therapeutics: A focused review (2020), Drug Development Research, 1–22.
Abhishek Kumar Sharma, Parteek Prasher, Alaa A. Aljabali, Vijay Mishra, Himanshu Gandhi, Sunil Kumar, Srinivas Mutalik, Dinesh Kumar Chellappan, Murtaza M. Tambuwala, Kamal Dua, Deepak N. Kapoor, Emerging era of "somes": polymersomes as versatile drug delivery carrier for cancer diagnostics and therapy (2020), Drug Delivery and Translational Research, EPub June 2020 (Springer).
Parteek Prasher, Mousmee Sharma, Harish Mudila, Gaurav Gupta, Deepak N. Kapoor, et al., Emerging trends in clinical implications of bio-conjugated silver nanoparticles in drug delivery (2020), Colloid and Interface Science Communications, Vol. 35, 100244.
Li Hian Chin, Chian Ming Hon, Dinesh Kumar Chellappan, Deepak N. Kapoor et al., Molecular mechanisms of action of naringenin in chronic airway diseases (2020), European Journal of Pharmacology, Volume 879.
Gaurav Gupta, Rajiv Dahiya, Yogendra Singh, Anurag Mishra, Deepak N. Kapoor, et al., Monotherapy of RAAS blockers and mobilization of aldosterone: A mechanistic perspective study in kidney disease (2020), Chemico-Biological Interactions, Vol. 317, 108975.
Alaa A. A. Aljabali, Hamid A. Bakshi, Faruk L. Hakkim, Khalid M. Al-Batanyeh, Deepak N Kapoor et al., Albumin Nano-Encapsulation of Piceatannol Enhances Its Anticancer Potential in Colon Cancer Via Downregulation of Nuclear p65 and HIF-1α (2020), Cancers, 12, 113.
Gandhi H., Sharma A., Mahant S., Wadhwa R., Dua K., Kapoor D.N., Recent advancements in brain tumor targeting using magnetic nanoparticles (2020), Therapeutic Delivery, 11(2), 97- 112.
Sharma, Abhishek Kumar; Dwivedee, Bharat Prasad; Soni, Surbhi; Kapoor, Deepak N.; and Patil, Varsha, "Scientometric analysis of biotechnology research output in India during 2008- 2017" (2019). Library Philosophy and Practice (e-journal). 2983. https://digitalcommons.unl.edu/libphilprac/2983.
Kaur T, Kapoor DN. Development and evaluation of sea buckthorn (Hippophae rhamnoides L.) seed oil nanoemulsion gel for wound healing (2018). Pharmacognosy Magazine, 14:647-58.
Kaur G., Kaur T., Kapoor D.N. (2018), Development and optimization of nanoemulsion gel for topical delivery of imiquimod. Journal of Chinese Pharmaceutical Sciences, 27(1): 31-39.
Kapoor D.N., Katare O.P., Kaurav H., Dhawan S. (2018), Development and optimization of in situ forming microparticles for long term controlled delivery of deslorelin acetate, Journal of Applied Pharmaceutical Science, 8(1), pp 59-72.
Kaurav H., Manchanda S., Dua K., Kapoor D.N. (2018) Nanocomposites in Controlled and Targeted Drug Delivery Systems, Nano Hybrids and Composites, Vol 20, pp 27-45.
Kaurav H., Kapoor D.N., (2017), Implantable systems for drug delivery to the brain, Therapeutic Delivery, 8(12): 1097-1107.
Kaur T., Singh G., Kapoor D.N., (2017), A Review on pharmacognostic, phytochemical and pharmacological data of various species of Hippophae (Sea buckthorn)" International Journal of Green Pharmacy. 11(1): S62-75.
Priyabrata Mohanta, Narendra K. Pandey*, Deepak N. Kapoor, Sachin K. Singh, Yadav Sarvi, Parth Sharma, (2017), Development of surfactant-based nanocarrier system for delivery of an antifungal drug, Journal of Pharmacy Research, 11(9): 1153-1158.
Sharma K., Sharma D., Kapoor D.N., (2016), Formulation and Characterization of Polysorbate 80 Coated Chitosan Nanoparticles of Serratiopeptidase, Am. J. PharmTech Res., 6(3): 508-516.
Book Chapters:
Sanju Dhawan, Deepak N. Kapoor, Rishi Kapil, Manoj Kumar and Ankur Bansal, "PEGylation". In: Development of Therapeutic Agents, Ed: Shayne C. Gad, Pharmaceutical Development Handbook Series, John Wiley and Sons. Inc., USA; Dec. 2011.
Deepak N. Kapoor, Amit Bhatia, Harman and Sanju Dhawan, "Novel and Nanoparticulate Implantable Drug Delivery Systems", In: NanoBioMedicine Vol. 4: NanoStructured Drug Delivery, Ed: Bhupinder Singh, Suresh P Vyas and Indu Pal Kaur, Studium Press LLC, USA, 2015.
Books:
Deepak N. Kapoor and Sanju Dhawan, "Biocompatible Nanomaterials for Targeted and Controlled Delivery of Biomacromolecules" In: Biomedical and Nanomedical Technologies: Concise Monograph Series, Ed: Ahmed Al-Jumaily, Waqar Ahmed, Christopher H.M. Jenkins and Nigel Hollingworth, ASME Press (American Society of Mechanical Engineers), & Momentum Press, USA; June 2013.