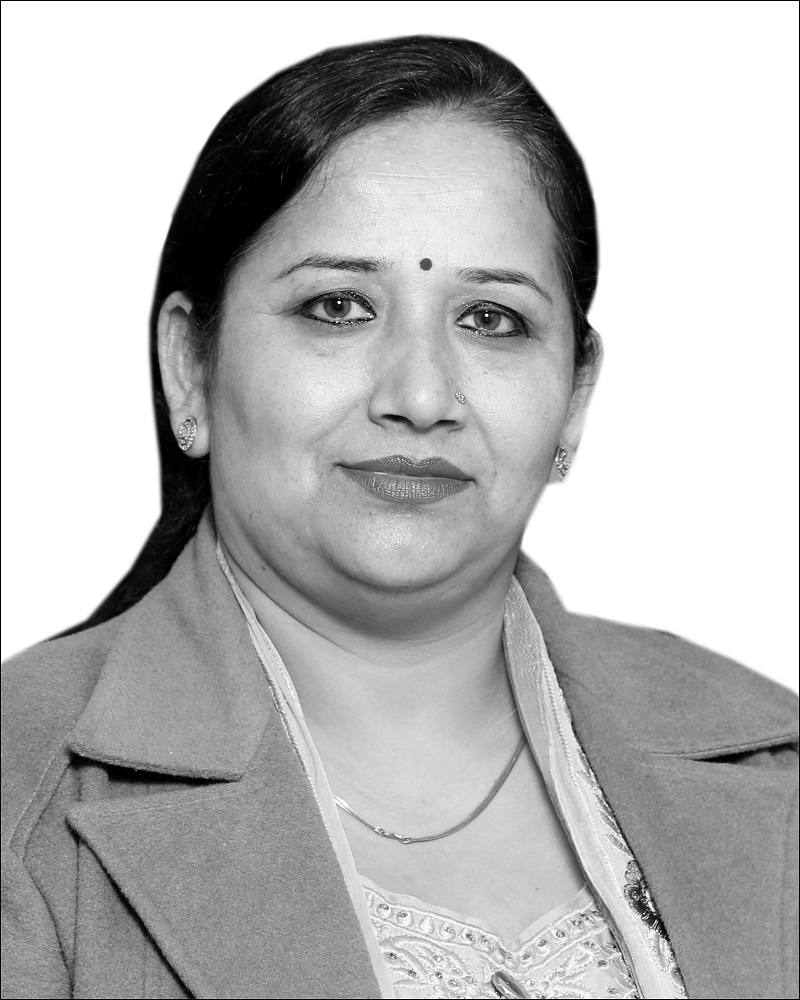 Mamta Sharma working as Associate Professor at Shoolini University and teaches Botany. More than 13 years working experience in teaching and research. Dedicated botanist whose chief interests lie in plant diversity conservation and stress physiology with emphasis on impacts of climate change on plants. Considered an important achievement in the field of biodiversity she has worked extensively on ethnobotanical aspect in Himalaya. Currently working in green synthesis of nanoparticles for effective drug delivery and its role in various fields of agriculture.
Publication
Sharma M*, Monika, Saini RV, Thakur P, Torino E and Kumar R*, "Unveiling antimicrobial & anticancerous behavior of AuNPs & AgNPs moderated by rhizome extracts of Curcuma longa from diverse altitudes of Himalaya", Scientific Reports, (Accepted) 2020. IF=4.525. Cite Score 7.4.
Kumar A, Sharma M, Thakur P, Thakur VK, Rahtekar S (2020). A review on exergy analysis of Solar Parabolic collector, Solar Energy, 197,411-432 IF- 4.7. Cite Score -8.1.
Sheetal, Shriya, Sharma Mamta. Herbicidal potential of Withania somnifera L. leaf extract on Cannabis sativa L., Hordeum vulgare L. and Cicer arietinum L. Journal Allelopathy.
Sharma M *#,Puri S(2020) Physiological performance, secondary metabolites profiling and photo oxidative tolerance in Withania somnifera. Journal of Medicinal Plants. 2020 10(2). (Impact factor: 1 Cite scope: 0.37).
Sharma M, Shriya, Choudhary S., Nanoemulsion formulation from allelochemicals of medicinal plants for weed management in Himalaya. API conference Chitkara, HP,2020.
Sharma M, Thakur P, Himani,. Effects of exogenous hormones and nutrients on germination components of drought stressed Cicer areitinum L. API conference Chitkara, HP, 2020.
Sharma M, Choudhary S, Shriya .,Alleviation of Temperature stress by using plant growth regulators and nutrients. API conference Chitkara, HP,2020.
Sharma, M., Kumari, A., Choudhury S.,& Shriya.(2019). Temperature Stress mediated consequences on Morphology and Physiology of Datura stramonium (L.). International journal of Pharmaceutical Sciences and research.2019. 10, 6. DOI: 10.13040/IJPSR.0975-8232.10.(6).3085-91.
Chauhan, P., Sharma, M., Radha., & Puri, S. (2019). Phytochemical Screening of Acorus calamus Linn. and Cuscuta reflexa Roxb. Annals of Agri-Bio Research, 2019. 10, 6.
Kumari, A., Sharma. S., & Sharma, M. (2018). Effect of physicochemical properties of soil on secondary metabolites of Calotropis gigantea (L) collected from Shivalik hills of Himachal Pradesh, India. Biological Forum – An International Journal, 10, 146-157.
Sharma, M., & Puri, S. (2018). Plant Tolerance and photooxidative effect of light stress on Withnolides in Withania somnifera. International Journal of Pharmaceutical research, 10, 03. DOI: https://doi.org/10.31838/ijpr/2018.10.03.061.
Kumari, A., Verma, R., Sharma, M., Chauhan, P., & Thakur, A. (2018). Evaluation of phytochemical, antioxidant, antibacterial and anti-cancerous activity of Ficus auriculata Lour. and Osyris wightiana Wall. ex Wight. Bulletin of Environment, Pharmacology and Life Sciences, 7, 64-70.
Kaur, R., Sharma, M., & Puri, S. (2017). Impact of tree management on the growth and production behavior of Zea mays under an agroforestry system in Solan District of Himachal Pradesh. Imperial Journal of interdisciplinary Research, 3, 2-8.
Sharma, M., Kumari, A., & Mahant, I. (2017). Micropropagation and phytochemical profile analysis of tissue culture grown Plantago ovata FORSK, 10, 4-9.
Sharma, M., Kour, R., & Puri, S. (2017). Bio herbicidal efficiency of Withania somnifera against prominent weeds of Himalaya. International Journal of Pharmacy and Pharmaceutical Sciences, 9(3).
Sharma, M,.& Puri, S. (2017). Temperature stress mediated oxidative and antioxidant defense in Withania somnifera L. Dunal. Journal of Chemical and Pharmaceutical Sciences, 10, 892-899.
Sharma M., & Sood S. (2017) Ethno diversity of Western and Central Himalayas. Ethnobotany of India. Book Chapter.
Thakur, S., Kumari, A., & Sharma, S. (2016). Comparative GC-MS analysis of Bioactive compounds in methanolic extract of Calotropis gigantea (l.) leaf and extract. Journal. International Journal of Pharmacy and Pharmaceutical Research, 8, 1823-1827.
Kumari, R., Puri, S., & Sharma, M. (2015). Impact of seasonal variation on arbuscular mycorrhizal fungi in lower Himalaya. International Journal of Pharma and biosciences, 6, 140-160.
Sharma, M., & Puri, S. (2015). Withania as effective herbicide against prominent weed of mid Himalaya Parthenium hysterophorus. International Journal of Scientific Research, 9.
Sharma, M., & Sood, S.K. (2013). Studies on the Ethnobotany of wild plants of Solan H.P. International Journal of Environmental Biology, 3, 87-95.
Kaur, R., Sharma, M., & Puri, S. (2013). Comparison of nutrient distribution in monoculture and polyculture land use system of sub-temperate midhills of Himachal Pradesh. Global Journal of Biology, Agriculture and Horticulture Science, 2, 42-45.
Sharma, M., Kour, R., & Puri ,S. (2013). Quantification of Withanolide A from Withania somnifera Dunal in tropics of Himalaya using HPLC with DAD dector. International Journal of Biological & Pharmaceutical Research, 4, 702-705.