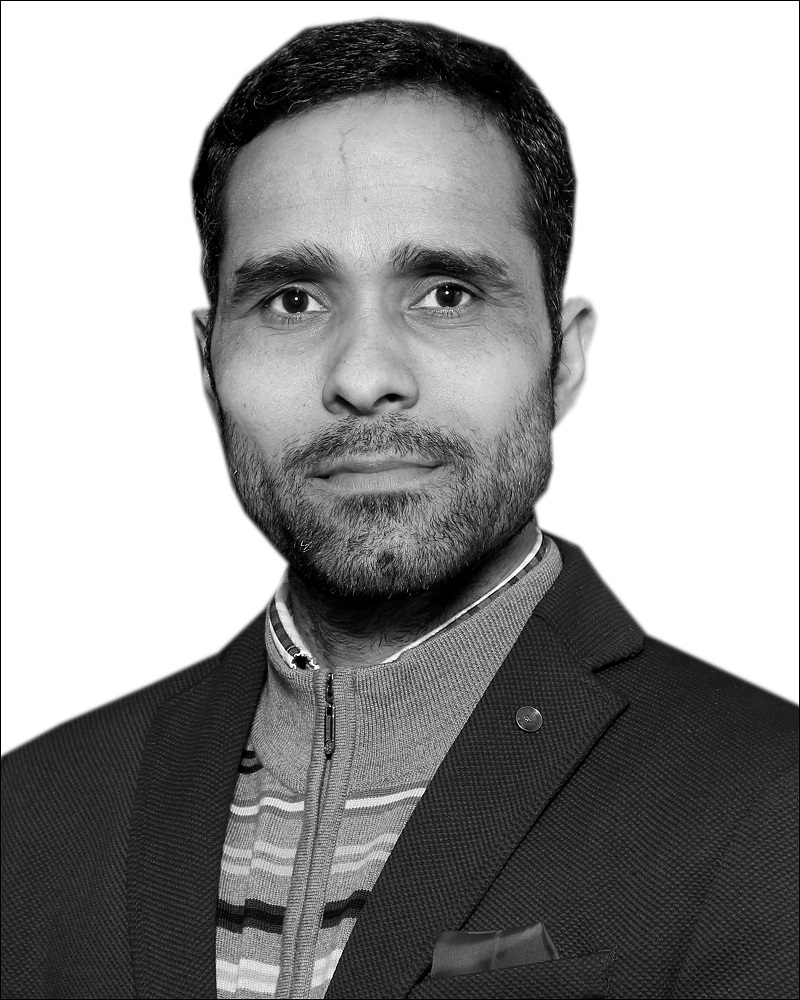 Navneet Kumar Upadhyay is an Associate Professor at the School of Pharmaceutical Sciences, Shoolini University, Solan (HP), India where he teaches and conducts research in Pharmaceutical Analysis. He received his M Pharmacy from in Quality Assurance from Jaipur National University, Jagatpura, Jaipur and PhD (2019) in Pharmaceutical Sciences from Shoolini University. He is the in-charge of Central Instrumentation facility Lab. With over 10 years of teaching experience, his academic contributions include several scientific papers and reviews published in National and international Journals with 64 citations, 4 h-index and 1 i10-index.
At present, Dr Upadhyay is engaged in research to develop and validate analytical methods for determination of active ingredients in pharmaceutical products, polyherbal formulations and biological fluids by using analytical instrumental techniques like HPTLC, HPLC, GC, UV etc.
Publication
Kumar H, Nepovimova BE, Oulkar D, Kumar A, Azad RMR, Budakoti SK, Upadhyay NK, Verma R, Kuca K. (2021) Determination of Colistin B in Chicken Muscle and Egg Using Ultra-High-Performance Liquid Chromatography–Tandem Mass Spectrometry. International Journalof Environomental Research and Public Health 2021, 18, 2651. DOI: 10.3390/ijerph18052651.
Kumar H, Huei B, Nepovimova E, Kaushal A, Nagraik R, Bhatia SK, Dhanjal DS, Kumar V, Kumar A, Upadhyay NK, Verma R, Kumar D#. (2020) Understanding the dilemma of Colistin usage in food animals and available detection techniques: A review. Animals 2020, 10, 1892; doi:10.3390/ani10101892.
Agarwal S, Kumar SLH, Negi P, Upadhyay N, Garg R#. (2020). Quetiapine fumarate loaded nanostructure lipid carrier for enhancing oral bioavailability: Design, development and pharmacokinetic assessment. Current Drug Delivery. 2020 Jul 28. PMID: 32723273. DOI: 10.2174/1567201817999200728135119.
Rolta R, Kumar V, Sourirajan A, Upadhyay NK, Dev K#. (2020). Phytocompounds of Three Medicinal Plants (Juniperus Communis, Urtica Dioica And Coleus Forskohlii) of North West Himalayas Increases the Potency of Antibacterial and Antifungal Antibiotics. Plant Archive; 20(2): 481-489.
Rolta R, Kumar V, Sorirajan A, Upadhyay NK, Dev K#. (2020). Bioassay guided fractionation of rhizome extract of R. emodi as Bio-availability enhancer of antibiotics against bacterial and fungal pathogens. Journal of Ethnopharmacology. 257(2020):112867.
Rathore C. Upadhyay N, Kaundal R, Dwivedi RP, Rahatekar S, John A, Dua K, Tambuwala M, Jain S, Chaudari D, Negi P# (2020): Enhanced oral bioavailability and hepatoprotective activity of thymoquinone in the form of phospholipidic nano-constructs. Expert Opinion on Drug Delivery. DOI: 10.1080/17425247.2020.1716728.
Rathore C, Upadhyay NK, Sharma A, Lal UR, Raza K, Negi P# (2019). Phospholipid nanoformulation of thymoquinone with enhanced bioavailability: Development, characterization and anti-inflammatory activity. Journal of Drug Delivery Science and Technology; 52:316-24.
Kaushik R#, Rana B, Kaushal K, Arora S, Kaushal A, Gupta S, Upadhyay N, Rani P, Sharma P. (2018). Physicochemical and electrochemical properties of zinc fortified milk. Food Bioscience; 21:117–24.
Sharma G#, Kumar S, Sharma M, Upadhyay N, Ahmed Z, Mahindroo N. (2018). Anti-Diabetic, anti-oxidant and anti-adipogenic potential of Quercetin Rich ethyl acetate fraction of Prunus Persica. Pharmacognosy Journal. 10(3):463-9.
Upadhyay NK, Rathore C, Sapra S, Negi P# (2018). Novel RP-HPLC Method Development and Validation for the simultaneous estimation of Saxagliptin and Glimepiride. International Journal of Applied Pharmaceutics. 10(3):151-6.
Chauhan S, Sharma A, Upadhyay NK, Singh G, Lal UR, Goyal R# (2018). In-vitro osteoblast proliferation and in-vivo anti-osteoporotic activity of Bombax ceiba with quantification of Lupeol, gallic acid and β-sitosterol by HPTLC and HPLC. BMC Complementary and Alternative Medicine; 18:233.
Alam A#, Naik KK, Upadhyay NK, Kumar S, Dhar KL. (2017). Simple, efficient and economical methods for isolation and estimation of novel isoflavone using RP-HPLC. MethodsX: 4:128-33.
Upadhyay NK, Alam A#, Chopra P, Naik SKK, Sharma M, Pundhir S, Tomar S, Sapra S (2017). Development and Validation of a New Chromatographic Method for the Simultaneous Estimation of Serratiopeptidase, Aceclofenac and Paracetamol by RP-HPLC. Pharmaceutical Analytical Chemistry; 3(2):1-7.
Sharma M, Upadhyay N, Madindroo N# (2016). Stability-indicating HPLC Method for Determination of 7, 8, 9, 10-tetrahydroazepino [2,1b] quinazolin-12(6H)-one, a Potential Anticancer Agent. Indian Journal of Pharmaceutical Sciences; 78(6):769-74.
Kumari A#, Upadhyay N, Khosla PK. (2016). Gender Specific Variation of Two Phenolic Glycosides (Populin And Salicin) In Populus Ciliata And Identification of A New Compound (Cinnamoyl-Salicin). International Journal of Pharmacy and Pharmaceutical Sciences; 8(12):156-62.
Patents Filed
Upadhyay NK, Negi P, Sapra S; Shoolini University of Biotechnology and Management Sciences. Bioanalytical Method for Simultaneous Estimation of Saxagliptin and Glimepiride in Biological fluids. Indian Patent 201811022580. 2018 June 16.
Bansal S, Kapoor DN, Upadhyay NK; Shoolini University of Biotechnology and Management Sciences. Anti-dandruff hair styling composition and method of preparation thereof. Indian Patent 201811007045. 2018 Feb 24.
Negi P, Nidhi, Upadhyay NK; Shoolini University of Biotechnology and Management Sciences. Improved topical composition of adapalene for acne treatment and method thereof. Indian Patent. EP1830795A1, 2018 Nov 1.