2nd Round of Applications Closed! For Details Contact : +91 701 800 7000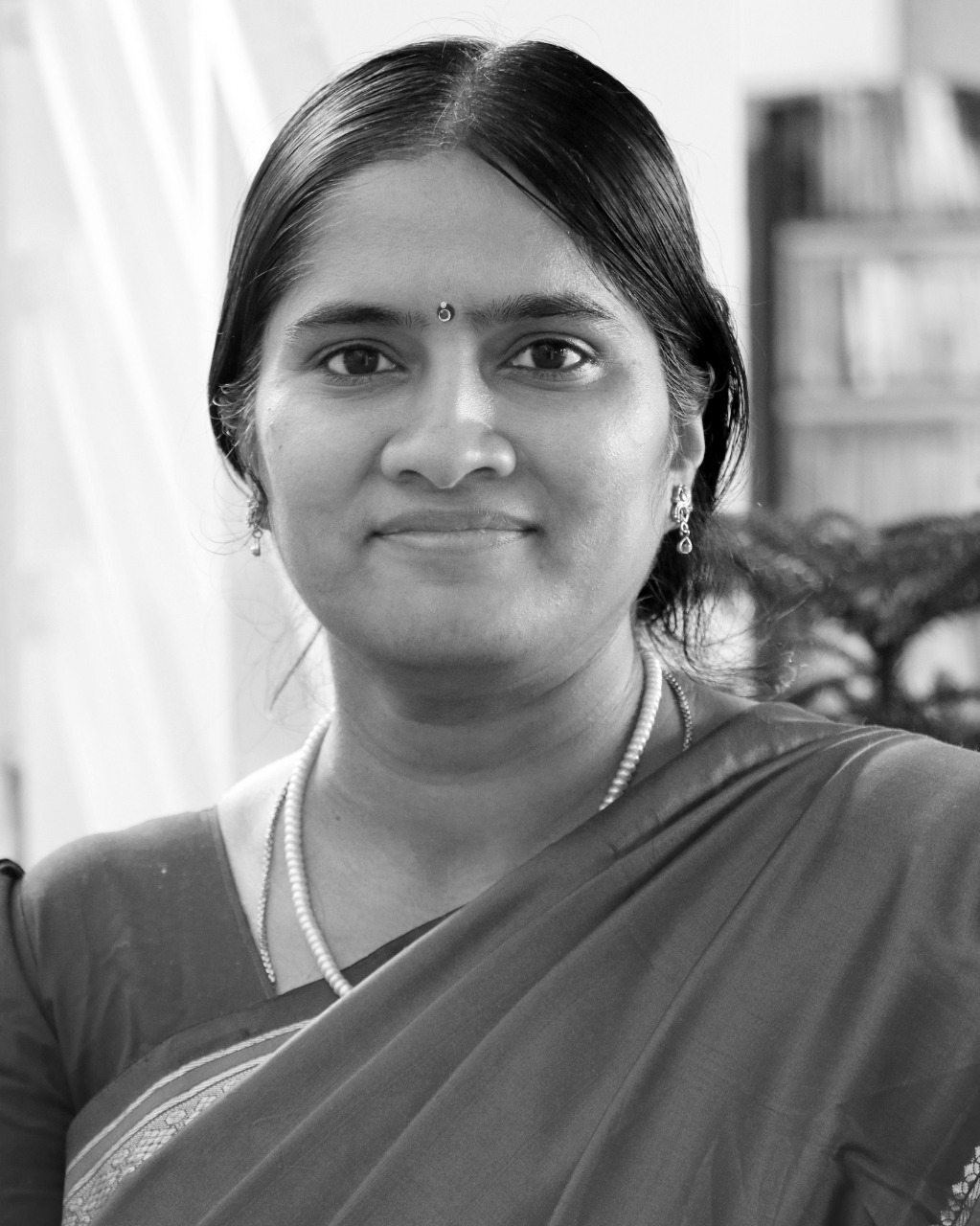 Prof Anuradha Sourirajan teaches biotechnology programmes to undergrads and postgraduate students. Dr Sourirajan received her PhD degree in Biochemistry from Indian Institute of Science, Bangalore, and pursued postdoctoral research at Center for Cancer Research, National Cancer Institute, NIH, USA in the field of cell cycle kinases and yeast meiosis. She is a recipient of the fellow award for research excellence from the National Institutes of Health, USA. Her research interests include understanding cell cycle regulation of yeast meiosis, exploration of cell cycle kinases as anti-cancer target, exploiting medicinal plants of Western Himalayas for cancer therapeutics and fungal infections, salt-stress control using halophiles, and affordable solutions for nutrition. Her team has already identified phytochemicals with potential cell cycle inhibitory activity for cancer therapeutics and unique essential oils to treat candidiasis, which are being developed into therapeutic formulations.
She has 60 publications in internationally and nationally reputed journals in the field of biological research with highest impact factor of 14.2 and filed 42 patents in the areas of drug discovery and enzyme biotechnology. Her potential as an independent scientist has been endorsed by the extramural research funding from DBT (BioCare scheme), and DST-SERB, Govt. of India.
Publication
Bhattacharya R, Dev K and Sourirajan A (2021) Antiviral activity of bioactive phytocompounds against coronavirus: An update. Journal of Virological Methods 290, 114070.
Gautam M, Rolta R, Kumar V, Sourirajan A, Sharma DR, Dev K (2020) Comparative antimicrobial and synergistic potential of extracts of leaves of Zanthoxylum armatum DC. from different geographical regions of Himachal Pradesh, India. Plant Archives 20 (2) 8127-8135
Rolta R, Salaria D, Kumar V, Patel CN, Sourirajan A, Baumler DJ, Dev K (2020). Molecular docking studies of phytocompounds of Rheum emodi Wall with proteins responsible for antibiotic resistance in bacterial and fungal pathogens: in silico approach to enhance the bio-availability of antibiotics. Journal of Biomolecular Structure and Dynamics https://doi.org/10.1080/07391102.2020.1850364.
Gupta S, Sharma P, Dev K, Sourirajan A (2020) Isolation of gene conferring salt tolerance from halophilic bacteria of Lunsu, Himachal Pradesh, India. Journal of Genetic Engineering and Biotechnology 18:57 (doi.org/10.1186/s43141-020-00070-6).
Rolta R, Sharma A, Sourirajan A, Dev K (2020) Combination between antibacterial and antifungal antibiotics with phytocompounds of Artemisia annua: A strategy to control drug resistance pathogens. Journal of Ethnopharmacology 266 (2021) 113420 (doi.org/10.1016/j.jep.2020.113420).
Nidhi P, Rolta R, Kumar V, Dev K, Sourirajan A (2020) Synergistic potential of Citrus aurantium L. essential oil with antibiotics against Candida albicans. Journal of Ethnopharmacology 262 (2020) 113135 (DOI: 10.1016/j.jep.2020.113135)
Rolta R, Yadav R, Salaria D, Trivedi S, Imran M, Sourirajan A, Baumler DJ, Dev K (2020) In silico screening of hundred phytocompounds of ten medicinal plants as potential inhibitors of nucleocapsid phosphoprotein of COVID-19: An approach to prevent virus assembly. Journal of Biomolecular Structure and Dynamics https://doi.org/10.1080/07391102.2020.1804457.
Sharma S, Gupta S, Sourirajan A, Dev K (2020) Halophilic plant growth promoting bacteria as potential bioinoculants for sustainable agriculture under salt stress. Journal of Xi'an University of Architecture & Technology XII (IV): 3532-3562.
Rolta R, Kumar V, Sourirajan A, Upadhyay NK, Dev K (2020) Phytocompounds of three medicinal plants (Juniperus communis, Urtica dioica and Coleus forskohlii) of North West Himalayas increases the potency of antibacterial and antifungal antibiotics. Plant Archives 20 (Supplement 2): 481-489.
Guleria S, Kumar V, Chandel SR, Sharma N, Sourirajan A, Khosla PK, Dev K (2020) Antioxidant and antimicrobial activity of ethanolic extract and its fractions from fruit and leaves of Terminalia chebula from Himachal Pradesh, India. Plant Archives 20 (2 October 2020, Ref. No:PA3/6140).
Sharma S, Sourirajan A, Dev K (2020) S. cerevisiae ER Membrane Protein complex subunit 4 (EMC4) plays a crucial role in eIF2B mediated translation regulation and survival under stress conditions. Journal of Genetic Engineering and Biotechnology 18, Article number: 15 (DOI: 10.1186/s43141-020-00029-7).
Kumar R, Sharma N, Rolta R, Lal UR, Sourirajan A, Dev K, Kumar V (2020) Thalictrum foliolosum DC: An unexplored medicinal herb from North western Himalayas with potential against fungal pathogens and scavenger of reactive oxygen species. Biocatalysis and Agricultural Biotechnology, Volume 26, July 2020, 101621.
Sharma S, Chaudhary R, Rolta R, Sharma N, Sourirajan A, Dev K, Kumar V (2020) Effect of solvent on yield, phytochemicals and in vitro antioxidant potential of Rhododendron arboretum. Research Journal of Pharmacy and Technology 13 (12): December-2020.
Sharma N, Kumar V, Chopra MP, Sourirajan A, Dev K, El-Shazly M (2020) Thalictrum foliolosum: A lesser unexplored medicinal herb from the Himalayan region as a source of valuable benzyl isoquinoline alkaloids. Journal of Ethnopharmacology 255: 112736 (doi: 10.1016/j.jep.2020.112736).
Rolta R, Kumar V, Sourirajan A, Upadhyay NK, Dev K (2020) Bioassay guided fractionation of rhizome extract of Rheum emodi wall as bio-availability enhancer of antibiotics against bacterial and fungal pathogens. Journal of Ethnopharmacology 257:112867 (doi.org/10.1016/j.jep.2020.112867).
Bisht, G., Srivastava, S., Kulshreshtha, R., Sourirajan, S., Baumler, DJ., Dev, K (2020) Applications of Red Pigments of psychrophilic Rhodonelum psychrophylum GL8 in health, food and antimicrobial finishes on textiles. Process Biochemistry 94: 15-29 (doi.org/10.1016/j.procbio.2020.03.021).
Sharma, P., Gupta, S., Sourirajan, A., Baumler, DJ., Dev, K (2020) Molecular evolution of Thermophilic Geobacillus species isolated from Tattapani Hotspring (India) and the Worldwide Distribution. Current Trends in Biotechnology and Pharmacy 14(1):16-32 (DOI: 10.5530/ctbp.2020.1.2).
Chauhan, S., Samanta, S., Sharma, N., Thakur, J.K., Dev, K., Sourirajan, A (2019) Saccharomyces cerevisiae Polo-like kinase, Cdc5 exhibits ATP-dependent Mg2+-enhanced kinase activity in vitro. Heliyon 5 (12), e03050 (https://doi.org/10.1016/j.heliyon.2019.e03050).
Sharma D, Sharma P, Dev K, Sourirajan A (2019) Endoglucanase gene of M42 aminopeptidase/ endoglucanase family from thermophilic Bacillus sp. PW1 and PW2 isolated from Tattapani Hot Spring, Himachal Pradesh, India. Journal of Genetic
Engineering and Biotechnology 17: 4. https://doi.org/10.1186/s43141-019-0001-8. (Scopus Cite score: 2.06)
Sheoran S, Nidhi P, Kumar V, Singh G, Lal UR, Sourirajan A, Dev K. (2019) Altitudinal variation in gallic acid content in fruits of Phyllanthus emblica L. and its correlation with antioxidant and antimicrobial activity. Vegetos 32: 387. https://doi.org/10.1007/s42535-019-00048-x. (Impact factor-0.56, Scopus Cite Score-0.18)
Gupta S, Sharma P, Dev K, Baumler DJ, and Sourirajan A. (2019) Draft Genome Sequence of Halobacillus trueperi SS1, isolated from Lunsu, a saltwater body in the Northwest Himalayas. Microbiology Resource Announcements 8 (10), e01710-18. doi: 10.1128/MRA.01710-18. Scopus Cite score 1.01
Sharma P, Gupta S, Sourirajan A, Baumler DJ, and Dev, K. (2019) Draft Genome sequence of hyperthermophilic, halotolerant Parageobacillus toebii PW12, isolated from the Tattapani hot spring, Northwest Himalayas. Microbiology Resource Announcements 8 (4): e01163-18. Cite score 1.01
Rangra, S, Kumar, V, Guleria, S, Sharma, N, Sourirajan A, Khosla, P.K., Baumler D J, and Dev K. (2019) Sequential fractionation by organic solvents enhances the antioxidant and antibacterial activity of ethanolic extracts of fruits and leaves of Terminalia bellerica from north Western Himalayas, India. Pharmacognosy Journal 11(1): 94-101. (Scopus Cite Score- 0.83)
Sharma D, Dev K, Sourirajan A. (2019) A Report on Metal Enhanced, Solvent Tolerant
Endoglucanase from Strict Thermophilic Bacillus sp. PW1 and Bacillus sp. PW2 of North
West Himalayas. Biological Forum – An International Journal 11 (1): 222-230. (Journal Impact factor: 2.9 indexed in Clarivate Analytics)
Bisht, G, Sourirajan A, Baumler DJ, and Dev, K. (2018) 16S rRNA gene amplicon data set-based bacterial diversity in a water-soil sample from Pangong Tso Lake, a high-altitude grassland lake of the Northwest Himalayas. Microbiology Resource Announcements 7 (17): e01192-18.
Sharma, S, Sourirajan A, Baumler, DJ, and Dev K. (2018) Identification of thermophilic Flavobacterium and Anoxybacillus in unexplored Tatapani hotspring of Kishtwar District of Jammu and Kashmir: A North Western Himalayan State. Current Trends in Biotechnology and Pharmacy 12 (3) 245-256.
Nidhi, P., Kumari, R., Thakur, S., Devi, R., Sharma, R., Kashyap, S., Dev, K., and Sourirajan, A. (2018). Role of Essential Oils of Medicinal Plants (Eucalyptus globulus, Thuja occidentalis, Rosmarinus officinalis, Lavandula officinalis) to Treat Broad Spectrum Bacterial and Fungal Pathogens and as Antioxidants in Food and Health (December 11, 2018). International Conference on New Horizons in Green Chemistry & Technology (ICGCT) 2018. Available at SSRN: https://ssrn.com/abstract=3299291 or http://dx.doi.org/10.2139/ssrn.3299291.
Rolta, R., Sharma, A., Kumar, V., Chauhan, P., Sourirajan, A., and Dev, K. (2018). Traditional Medicinal Plants of Higher Altitude of Himachal Pradesh as Functional Food Ingredient Cum Food Preservative and Bioavailability Enhancer of Anifungal Antibiotics (December 11, 2018). International Conference on New Horizons in Green Chemistry & Technology (ICGCT) 2018. Available at SSRN: https://ssrn.com/abstract=3299285 or http://dx.doi.org/10.2139/ssrn.3299285.\
Sharma A, Kumar V, Shukla RK, Dev K, Sourirajan A (2018) Resurrection of the Fern "Cheilanthes albomarginata Clarke" Involves Utilization of Trehalose as Energy Source and Accumulation of Protective Stress Metabolites. International Journal of Biochemistry and Physiology 3(3): 000131.
Rolta R, Sharma A, Kumar V, Sourirajan A, Baumler DJ, and Dev K (2018) Methanolic extracts of the rhizome of R. emodi act as bioenhancer of antibiotics against bacteria and fungi and antioxidant potential. Medicinal Plant Research, 8(9): 74-85.
Vaidya S, Dev K, and Sourirajan A (2018) Distinct osmoadaptation strategies in the strict halophilic and halotolerant bacteria isolated from Lunsu salt water body of North West Himalayas. Current Microbiology Feb 26. doi: 10.1007/s00284-018-1462-8.
Kumar V, Sharma N, Sourirajan A, Khosla PK, and Dev K (2018) Comparative evaluation of antimicrobial and antioxidant potential of ethanolic extract and its fractions of bark and leaves of Terminalia arjuna from north-western Himalayas, India. Journal of Traditional and Complementary Medicine 8(1):100-106.
Sharma S, Sourirajan A, Dev, K (2017) Role of Saccharomyces cerevisiae TAN1 (tRNA acetyltransferase) in Eukaryotic Initiation Factor 2B (eIF2B) mediated Translation Control and Stress Response. 3 Biotech 7 (3): 223.
Sharma N, Vaid R, Dev K, and Sourirajan A. (2017) Polo-like Kinase (PLK) S. Choi (ed), Encyclopedia of Signaling Molecules.1-7. DOI 10.1007/978-1-4614-6438-9_101760-1.
Hangloo S, Sourirajan A, and Dev K (2016) Metal independent and detergent stable lipases from Aeromonas and Pseudomonas spp. and their role in bioremediation. International Journal of Biology, Pharmacy and Allied Sciences 5(11): 2781-2799.
Thakur, R., Sourirajan, A., Dev, K (2016) Isolation and characterization of caffeine degrading Pseudomonas putida species and Bacillus licheniformis from
thermal hot springs and tea garden of Himachal Pradesh, north west Himalayas. IJBPAS, 5(8): 1869-1888.
Hangloo S, Sourirajan A, Raina C, Chaubey A, and Dev K (2016) Isolation and characterization of extracellular lipase producing bacterial isolates from effluent waste of paint industry. Current Trends in Biotechnology and Pharmacy 10 (3): 261-273.
Kumar V, Sourirajan A, Dev K, and Khosla PK (2016) Comparative Antioxidant Potential of Bark and Leaves of Terminalia arjuna (Roxb) Wight & Arn from Himachal Pradesh. Int. J. Pharmaceutical and Phytopharmacology Res. 6(1):27-33.
Vaid R, Dev K, Lichten M, and Sourirajan A (2016) Generation of an inducible system to express Polo like kinase, Cdc5 as TAP fusion protein during meiosis in Saccharomyces cerevisiae. 3 Biotech 6 (2): 1-6.
Vaid R, Sharma N, Chauhan N, Deshta A, Dev K and Sourirajan A (2016) Functions of Polo-Like kinases: A journey from Yeast to Humans. Protein and Peptide Letters 23: 185-197.
Sharma N, Dev K, and Sourirajan A (2016) A recombinant system for plo1 expression: an amenable tool to study Schizosaccharomyces pombe polo-like kinase in vitro. IJBPAS, 5(5): 1046-1057.
Gupta S, Sharma P, Dev K and Sourirajan A (2016) Halophilic bacteria of Lunsu produce an array of industrially important enzymes with salt-tolerant activity. Biochemistry Research International vol. 2016, Article ID 9237418, 10 pages, 2016. doi:10.1155/2016/9237418.
Sharma P, Gupta S, Sourirajan A and Dev K (2015) Characterization of extracellular thermophilic cellulase from Geobacillus sp. isolated from Tattapani Hot Spring of Himachal Pradesh, India. International Journal of Advanced Biotechnology Research 6 (3): 433-442.
Deshta A, Dev K and Sourirajan A (2015) Cloning and expression of Polo-like kinase (CaCdc5) from Candida albicans. International Journal of Advanced Scientific and Technical Research 6 (5) 127-133.
Sharma A, Kashyap S, Dev K and Sourirajan A (2015). A report on resurrection activity of the fern 'Cheilanthes albomarginata clarke' from various regions of Himachal Pradesh, India. International Journal of Life Science and Pharma Research 5 (4) L1-L7.
Chauhan S, Samanta S, Thakur JK and Sourirajan A (2015) Cloning, expression and purification of functionally active Saccharomyces cerevisiae Polo-like Kinase, Cdc5 in E. coli. Journal of Applied Biology and Biotechnology 3(4): 20-24.
Sharma P, Gupta S, Sourirajan A and Dev K (2015) Characterization of extracellular thermophilic amylase from Geobacillus sp. isolated from Tattapani hot spring of Himachal Pradesh, India. Current Biotechnology 4: 1-8.
Gupta S, Sharma P, Dev K, Srivastava M and Sourirajan A (2015) A diverse group of halophilic bacteria exist in Lunsu, a natural salt water body of Himachal Pradesh, India. Springer Plus 4:274.
Kumar A, Dev K and Sourirajan A (2015) Screening of medicinal and aromatic plants of Himachal Pradesh for antiproliferative activities against budding yeast Saccharomyces cerevisiae. International Journal of Pharma and Biosciences 6(3): (B) 280 – 288.
Kumar T, Sourirajan A and Dev K (2015) Isolation and characterization of psychrotolerant Serratia quinivorans secreting β-galactosidase. Universal Journal of Microbiology Research 3(1): 1-9.
Suman R, Sharma P, Gupta S, Sourirajan A and Dev K (2015) A novel psychrophilic Janthinobacterium lividum MMPP4 isolated from Manimahesh Lake of Chamba District of Himachal Pradesh, India. Journal of Biochemical Technology 6(1): 846-851.
Sharma V, Sharma HV, Mehta D, Chhabra B, Thakur D, Sourirajan A and Dev K (2014) Comparative analysis of antibacterial and antifungal properties of traditional medicinal plants of Shimla and Solan, Himachal Pradesh. International Journal of Pharmacognosy and Phytochemical Research 6(1): 18-26.
De Muyt A, Jessop L, Kolar E, Sourirajan A, Chen J, Dayani Y and Lichten M (2012) BLM helicase ortholog Sgs1 is a central regulator of meiotic recombination intermediate metabolism. Molecular Cell 46: 43-53.
Sourirajan A and Lichten M (2008) Polo-like kinase Cdc5 drives exit from pachytene during budding yeast meiosis. Genes and Development 22: 2627-2632.
Tripathi P, Anuradha S, Ghosal G and Muniyappa K (2006) Selective binding of meiosis-specific yeast Hop1 protein to the Holliday junctions distorts the DNA structure and its implications for junction migration and resolution. Journal of Molecular Biology 364: 599-611.
Anuradha S, Tripathi P, Mahajan K and Muniyappa K 2005 Meiosis-specific yeast Hop1 protein promotes pairing of double-stranded DNA helices via G/C isochores. Biochemical and Biophysical Research Communications 336: 934-941.
Anuradha S and Muniyappa K 2005 Molecular aspects of meiotic chromosome synapsis and recombination. Progress in Nucleic Acid Research and Molecular Biology 79: 49-132
Anuradha S and Muniyappa K 2004 Saccharomyces cerevisiae Hop1 zinc-finger motif is the minimal region required for its function in vitro. Journal of Biological Chemistry 279: 28961-28969.
Anuradha S and Muniyappa K 2004 Meiosis-specific yeast Hop1 protein promotes synapsis between double-stranded DNA helices via the formation of guanine quartets. Nucleic Acids Research 32: 2378-2385.
Muniyappa K, Anuradha S and Byers B 2002 Yeast meiosis-specific Hop1 binds to G4 DNA and promotes its formation
List of Patents filed (Indian and PCT):
S. no.
Authors (Year)
Title of Patent
Application no
1.
Thakur, S., Nidhi, P., Dev, K., Sourirajan, A.
An Antibacterial Composition Comprising Platycladus orientalis essential oil
202111000003
2.
Kumari, R., Nidhi, P., Dev, K., Sourirajan, A.
An Antibacterial Composition Comprising Citrus pseudolimon essential oil
202111000002
3.
Nidhi, P., Dev, K., Sourirajan, A.
A Composition of Synergistic anti-fungal combination of Essential oil extracted fromleaves of Eucalyptus globulus with fluconazole for treating Candidiasis
202011055336
4.
Srivastava, S., Kulshreshtha, R., Diksha, Kritika, Nidhi P., Rolta, R., Dev, K., Sourirajan, A.
A composition of Essential oil of Pleurospermum brunonis as effective cell cycle inhibitorand anti-cancer agent against cancer cells and method of use thereof
202011055559
5.
Dev, K., Nidhi, P., Sourirajan, A.
A synergistic anti-fungal composition of essential oil extracted from Acorus calamus with antibiotic.
202011048060
6.
Rana, A., Dev, K., Kumar, R., Chandel, SS., Kapoor, N., Sourirajan, A.
Solar power assisted distillation plant and method of use thereof.
202011034249
7.
Nidhi, P., Kumari, R., Rathore, C., Vihal, S., Negi, P., Dev, K., Sourirajan, A.
Self-nanoemulsifying drug delivery systems comprising essential oil of Citrus pseudolimon for candidiasis
202011027438
8.
Salaria, S., Rolta, R., Kumar, V., Dev, K., Sourirajan, A.
Essential oil of Cymbopogon citratus as bioavailibility enhancer of fluconazole and amphotericin b to combat candida infections.
202011027903
9.
Salaria, D., Rolta, R., Kumar, Dev, K., Sourirajan, A.
Essential oil of Thymus serpyllum as bioavailability enhancer of fluconazole and amphotericin b to combat candida infections.
202011027439
10.
Nidhi, P., Dev, K., Sourirajan, A.
Synergistic anti-fungal composition of essential oil extracted from seeds of Moringa oleifera for treating candidiasis
202011027650
11.
Dev, K., Sourirajan, A., Sharma, S., Gupta, S.
Halophilic Halobacillus trueperi SS1 bacterial strain as plant growth promoting bacteria and potential bio inoculants for sustainable growth of cereal and pulses crops under NaCl stress environment
202011004235
12.
Dev, K., Sourirajan, A., Bisht, G., Kulshreshtha, R., Srivastava, S.
A method of isolation of red pigments from psychrophilic bacterium Rhodonellum psychrophilium GL8 and uses thereof
202011004237
13.
Rolta, R.,Goyal, M., Sharma, S., Bharaj, D., Singh, G., Sourirajan, A., Dev, K. (2020)
Phytocompounds of Bergenia ligulata rhizome extract as Bioenhancer of antibacterial andantifungal antibiotics and method of use thereof.
202011004236
14.
Bisht, A., Nidhi, P., Rolta, R., Rathore, C., Upadhyay, N., Dev, K., Sourirajan, A., Negi, P. (2019)
Anti-acne microemulsions for topical administration co-loaded with azelaic acid and tea tree essential oil.
201911053824
15.
Bisht, A., Nidhi, P., Rolta, R., Rathore, C., Upadhyay, N., Dev, K., Sourirajan, A., Negi, P. (2019)

Azelaic acid and Melaleuca alternifolia essential oil co-loaded vesicular system for topical administration.

201911051402
16.
Bisht, G., Sourirajan, A., Dev, K. (2019)
Bio-pigment based cotton fabrics with antimicrobial properties and method of uses thereof.
201911048223
17.
Rana, A., Kumar, R., Kapoor, N., Chandel, SS., Sourirajan, A., Dev, K (2019)
A single platform multi-temperature solar Powered orbital shaker incubator for growing microorganisms at different temperature and method of use thereof
201911039615
18.
Rolta, R., Kumar, V., Sourirajan, A., Dev, K (2019)
An antifungal formulation prepared from phytocompounds of Rheum emodi as bio-enhancer for antibiotics
201911034475
19.
Nidhi, P., Rolta, R., Dev, K.,Sourirajan, A., (2019)
A synergistic anti-fungal composition of essential oil extracted from needles of Juniperus communis with antibiotics for treating candidiasis
201911010808
20.
Nidhi P., Negi P., Dev, K.,Sourirajan, A., (2019)
Herbal gel formulation containing essential oil of Mentha longifolia for oral candidiasis
201911027500
21.
Sharma, A., Nidhi, P., Rolta, R., Dev, K., Sourirajan, A., (2019)
Composition comprising essential oil and solvent extracts of
Artemisia annua as bioavailability enhancer of fluconazole and
amphotericin B to manage candidiasis
201911032547
22.
Thakur, S., Nidhi P., Kumar, V., Sourirajan, A., Kumari, A. (2019)
A kit for identification of best harvesting time for the extraction of essential oil of Mentha longifolia
201911005624
23.
Nidhi P.,Kumari, R., Dev, K.,Sourirajan, A, (2018)
Antifungal composition prepared from essential oil of leaves of Citrus pseudolimon and bioavailability enhancer of antifungal antibiotics
201811049881
24.
Nidhi, P., Rolta, R., Dev, K.,Sourirajan, A., (2018)
Antifungal compositions prepared from essential oil of Pleurospermum brunonis with fluconazole and amphotericin B asbioenhancers of the antibiotics and uses thereof.
201811045728
25.
Nidhi, P., Rolta, R., Kumar, V., Dev, K., Sourirajan, A.,(2018)
Phytocompounds from essential oil of Menthalongifolia as synergistic, broad spectrum drug candidates for Candidiasis
201811035174
26.
Nidhi, P.,Rolta, R., Kumar, V., Dev, K., Sourirajan, A,(2018)
The essential oil and its constituentphytocompounds of Citrus aurantium as non-toxic, broad spectrum, and synergistic drug candidate for candidiasis
201811034501
27.
Rolta, R., Sharma, A., Kumar, V., Sourirajan, A., Dev, K (2018)
Chloroform sub-fractions of methanolic extract of rhizome of Rheum emodi as potent antibacterial drugs against E. coli and K. pneumonia and as antioxidant in food preservation.
201811032946
28.
Shukla, S, Kashyap, A, Rolta, R., Sharma, A., Kumar, V., Sourirajan, A., Dev, K (2018)
Methanolic extract of Berginia ligulata leaves and rhizome as bioavailability enhancer of fluconazole and amphotericin B to control Candidiasis.
201811032947
29.
Kashyap, A, Shukla, S., Rolta, R., Kumar, V., Sourirajan, A., Dev, K (2018)
Rhizome extract of Bistorta macrophylla enhanced the antifungal activity of fluconazole and amphotericin B and method thereof.
201811022736
30.
Dev, K., Sourirajan, A., Bisht, G (2018)
A strict-halophilic Salinicoccus roseus strain GL34 and pigments thereof
201811021212
31.
Dev, K., Mandal, S., Sourirajan, A., Bisht, G (2018)
Biological decaffeination of coffee by hyper thermoalkaliphile Parageobacillus toebii strain SM1 and method thereof.
201811020673
32.
Dev, K., Dogra, MK., Sharma, S., Sourirajan, A. (2018)
Improved process for production of oligosaccharides from agar using novel psychrophilic bacteria isolated from Himalayas.
201811020479
33.
Sourirajan, A., Nidhi, P., Dev, K., Rolta, R. (2018)
A method for extraction of essential oil extract from Pleurospermum brunonis and uses thereof.
201811018065
34.
Sourirajan, A, Sharma, D., Dev, K. (2018)
A gene encoding dual enzyme Aminopeptidase/endoglucanase from thermophilic bacterium Bacillus sp. PW2 (KU711838).
201811018382
35.
Dev, K., Bisht, G., Sourirajan, A., Kumar, V. (2018)
A psychro-halophilic Rhodonellum psychrophilum strain GL8 and pigments thereof.
201811018597
36.
Dev, K., Sharma, D., Sharma, S., Sourirajan, A (2017)
Thermostable antimicrobial peptides and method thereof.
201711034173
37.
Dev, K., Sharma, D., Sourirajan, A., Sharma, S (2017)
Novel gene coding a thermostable glutaminase enzyme.
201711028931
38.
Sourirajan, A., Vaidya, S., Dev, K (2017)
Gene expressing novel microbial protein for engineering salt tolerance in plants and method thereof.
201711018003
39.
Dev, K., Sharma, V., and Sourirajan, A. (2015)
Terpenoids from Colebrookea oppositifolia as activity enhancers of antibiotic compositions and extraction method thereof.
1326/DEL/2015
40.
Dev, K., Sourirajan, A., Gupta, S. (2015)
Compounds from Vitex nigundo for enhancing antibiotic activity and overcoming drug resistance.
1464/2015-DEL
41.
Dev, K., Sourirajan, A.,Suman., R. (2015)
Microbially produced antifreeze protein(s) and method of production thereof.
3886/DEL/2015
42.
Dev, K., Sourirajan, A., Gupta, S. (2015)
Compounds from Vitex nigundo for enhancing antibiotic activity and overcoming drug resistance.
PCT/IN2016/00012